:::big brass alliance bloglist:::
*=* denotes recently updated blog
:::how many more years?:::
:::iraqi stats and news:::
Cost of the War in Iraq
(JavaScript Error)
Click for
Iraq Coalition Casualties
Iraqi Bloggers:
A Family in Baghdad
A Star from Mosul
Baghdad Burning
Baghdad Dweller
Baghdad Girl
Colored Bubbles
Healing Iraq
Live from Baghdad
Pictures in Baghdad
Where is Raed?
:::reporter or pundit?:::
Either report the news or resign and declare your pundit status; provide news
not opinion
!
One is a corporate mouthpiece, the other was a
real
anchorman.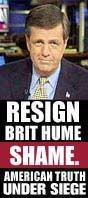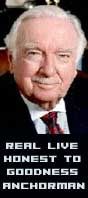 "The mark of a professional journalist is that we do adhere to an ethic. A professional journalist recognizes his or her prejudices and biases and avoids them in writing and reporting. There's no place in journalism for biased reporting on the front page. There is no place for subjective, personal opinions to creep in."

~~~Walter Cronkite
And that's the way it
was
, and that's the way it
should be
!
Note: I'm NOT taking this down, BTW. He may never have to pay for it, but what Hume did was absolutely wrong and a slap in the face to real journalists. This will stay up for as long as I feel like it (and right now I'm feeling like that may be a long, LONG time) to express my complete and utter disgust and disbelief at the travesty that broadcast
news
has become.