An etherealgirl's Adventures in Cyberland
Saturday, October 02, 2004
John Kerry is a true American Hero!
Every U.S. Citizen should make it his/her business to see
Going Up River: The Long War of John Kerry
!
We just got back from seeing it and it was an eye-opening affirmation about a thoughtful and honorable man of true courage and integrity! Go see for yourself! It gives me hope about the future of our country and politics. John Kerry is the real deal!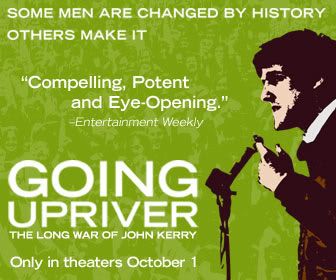 Posted by etherealfire ::
3:54 PM
::
0 Comments:


---------------oOo---------------