An etherealgirl's Adventures in Cyberland
Tuesday, August 31, 2004
patriotism and hard questions: as American as Apple Pie
A wake up call for America is now in progress. No time for slumbering....
"Our beloved land has been fogged with fear—fear, the greatest political strategy ever. An ominous silence, distant sirens, a drumbeat of whispered warnings and alarms to keep the public uneasy and silence the opposition. And in a time of vague fear, you can appoint bullet-brained judges, strip the bark off the Constitution, eviscerate federal regulatory agencies, bring public education to a standstill, stupefy the press, lavish gorgeous tax breaks on the rich." ~ GK
We're Not in Lake Wobegon Anymore
according to
Garrison Keillor
.
Some very serious 11th hour food for thought to digest, at a time and a place in history when waiting for midnight to feed one's head will be too late.
Posted by etherealfire ::
11:33 PM
::
0 Comments:


---------------oOo---------------
well in lavender actually....
Pink:
You see the world in bright pink. The world is a
happy, happy place! You love all people and
things!! Life is great! You're just like a
happy child. Spread the cheer.
What color do you see the world in?
brought to you by Quizilla
Posted by etherealfire ::
3:49 PM
::
0 Comments:


---------------oOo---------------
Jimmy Page Honoured on the British Walk of Fame
Jimmy gets his magick hands commemorated in cement for posterity at the British Walk of Fame in London on August 24, 2004!!!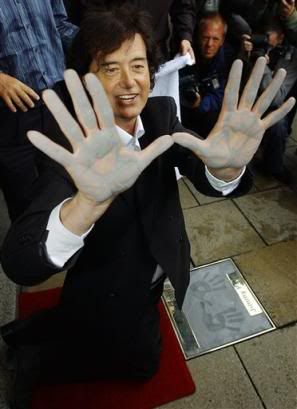 Read about it
here
!
Posted by etherealfire ::
3:02 AM
::
0 Comments:


---------------oOo---------------
Sunday, August 29, 2004
and so it begins....
With only a scant two months left before the November Presidential Election, the GOP Convention gets underway, thousands of citizens hit the street:
More Than 100,000 Protest Bush in NYC
And the hold world is watching.... and, no doubt, taking a collective breath....
Posted by etherealfire ::
11:11 PM
::
1 Comments:


---------------oOo---------------
medieval name ~ fun quiz!
Your medieval name is: Lisolette. Quiet and artsy,
you're different from the crowd. You have a
taste in music or art and are sometimes
depressed and private. You're naturally lovely.
What is your Medieval name?
brought to you by Quizilla
Posted by etherealfire ::
9:26 PM
::
0 Comments:


---------------oOo---------------