An etherealgirl's Adventures in Cyberland
Monday, September 04, 2006
steve irwin killed by stingray
I never could watch
the show
for more than a few minutes coz I'm a wimp and I was always worried sick that he was going to end up meeting his maker on the job. So I wasn't too surprised when my shocked and sorrowful daughter
broke the news
to me early this morning. Not surprised but very heartbroken for his wife and young children. The only possible small consolation was that it has been reported that in all likelihood, he died instantly.
My thoughts and prayers go out to his family. He will be missed by millions of heartbroken fans and admirers; his activism in support of wildlife will be greatly missed as well, in fact, his dedication and pr work will be irreplaceable.
There will never be another Steve Irwin in this life, and for that I am so very heartbroken today.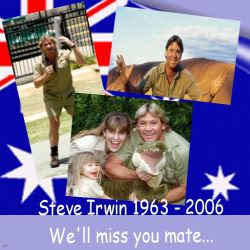 A Memorial Forum can be found
here
Posted by etherealfire ::
4:40 PM
::
6 Comments:


---------------oOo---------------