An etherealgirl's Adventures in Cyberland
Friday, October 31, 2003
Happy Halloween/Samhain!
Halloween/Samhain is coming to a close but I had to post a couple of fun links that I found tonight while surfing between the times that we had visits from the occasional trick or treaters. It was a rather sparse turnout and a surprisingly rainy night... I couldn't help wishing that some of that rain could have made its appearance last week when the surrounding area was engulfed in flames...oh well. :-(
First of all there was this fun and informative place for everything
Jack-o-lantern related
! The art of pumpkin carving has become an intricate one over the last several years. I am impressed by others' work but we have resorted to the ceramic kinds at our house.
Still the house was pretty festive both inside and out this year as I was inspired by alot of the outdoor decorating that has gone on in our neighborhood the last couple of years. We had lots of lighted pumpkins and strings of bats, candy corns and frankensteins out front. And then the rains came :-( but it was pretty just the same. I tried to snap a few photos with my digital camera but I have not had any success yet even trying to upload them to my computer. I hope they came out alright.
Another interesting but spooky site I found was devoted entirely to real live
haunted houses
scattered around the U.S. And the site has other
horror
attractions as well....um, but because I'm a really big chicken, I'm not gonna spend much time perusing them... I'm not particularly brave, so I would just add my disclaimer....I'm guessing this is not for the faint of heart. Proceed with caution and the appropriate sense of fun....
Much more suited to kids (and scaredy cats like me) is
Scary.com
! Although, I've got to admit I got a little unnerved by the opening sequence. Still, that was the point so for kids big and small everywhere, looking for a little bit of spooky fun, go and enjoy!
For some Samhain-related sites, I found
this one
to be a link up for informative and educational as well! I found this
article
in particular to be hopeful and refreshing! Some of the more enlightened Christian responses give me a little bit more faith in the inherent goodness and responsibility that is more prevalent from that faction than I had come to believe in recent times!
For information on the symbolic meanings behind this important Sabbat,
Samhain Lore
is a good place to start and other Samhain-lore related sites can be found
here
,
here
,
here
,
here
,
here
and
here
.
The symbolism of death and renewal is a theme that is very important in my own life as I have my North Node in Scorpio and in the 8th House. My whole life has been about seeking, spiritual growth and an ongoing journey towards transformation. That is one of the reasons that this time of year is so very significant to me personally. It is the best time for personal reflection and preparation for the upcoming season of joy and light that is celebrated by most every faith in some form!
This article
in particular was one that resonates with me and I wanted to share it as well as
this one
and
this one
.
I wish each and every one of you a safe, happy, peaceful and insightful Halloween, All Hallow's Eve and Samhain.
Also upcoming are
All Saints Day
on November 1st and
All Soul's Day
typically celebrated on the 2nd or 3rd of November. Traditionally celebrated in the Catholic Church it is a great time for any of us to remember and to send out our prayers of gratitude and acknowledgement for the gifts of our heroes, our ancestors, those who left the earth plane but not their legacies, their memories and their hopes and dreams that can be carried ever onward with future generations.
Posted by etherealfire ::
11:45 PM
::
0 Comments:


---------------oOo---------------
What is your Jack-O-Lantern Face?
This was a really fun little quiz!!! This jack-o-lantern looks alot like the one we have out front! It looks like we match!!!! LOL!!!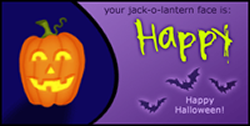 discover your jack-o-lantern face @ quiz me
Posted by etherealfire ::
5:29 PM
::
0 Comments:


---------------oOo---------------
Tuesday, October 28, 2003
encircled in a ring of fire
The smell of smoke still permeates the air and ash is still falling like an eerie sort of snow. I live in an area of Southern California that has been spared the
firsthand horrors of raging fires
but these sobering reminders of what is happening in areas both to the north and south of our home leave me with a sorrow for those who have not been so lucky. My prayers go out to all that have suffered losses and damage this past weekend and yesterday. Here is hoping that the Santa Ana's will lose momentum and give our brave firefighters a chance to get these fires under control. :-(
Posted by etherealfire ::
3:26 AM
::
0 Comments:


---------------oOo---------------
Friday, October 17, 2003
Friday Five
I haven't done the
Friday Five
in awhile so I decided to do one tonight:
1.
Name five things in your refrigerator
:
Several heads of lettuce for guinea pigs (and also for us); sliced tomatoes; hamburger patties; hamburger buns (all for tomorrow's dinner to be grilled outside - gotta get these things eaten before they go bad); leftover chicken barbeque pizza from Papa John's (tonight's dinner).
2.
Name five things in your freezer
:
Vanilla ice cream; a box of popsicles; bags of corn; bags of broccoli; a box of buttermilk waffles.
3.
Name five things under your kitchen sink
:
Generic lemon scented dishwasher detergent; method french lavender dishwashing liquid; method french lavender all purpose cleaner; method french lavender liquid soap; Armstrong floor cleaner.
4.
Name five things around your computer
:
5 x 5 inch sage, gold and purple pillow designed by Maya Angelou that says
Joy
on it; a white
caravan storycard
with the chinese character for
Joy
imprinted in royal blue on it by Nanjing-born calligrapher Li You and this quote that I really love hand-written by me in the same blue color on the front:
"Where there is joy, there is creation
Where there is no joy, there is no creation
Know the nature of Joy!"
(unfortunately I neglected to credit who the quote is from so right now I don't know...); a faux jewelled 2 x 3 frame (in colors red, sapphire blue and magenta) of my beautiful daughter Mina (who is my pride and joy!) with a costume jewelled brooch with frosted white looking "stones" given to me by my Grandma Pena attached to one corner of the frame; a pretty pink "cigar box" shaped box that holds pictures and cards given to me from family and friends - the box a mother's day gift from Mina and Stu; a stack of cds that I've been listening to today. The theme is
Joy
and my pretty purple iMac's name is .... Joy! LOL!
5.
Name five things in your medicine cabinet
:
Aquafresh whitening/tarter control toothpaste; Glide mint flavored dental floss; a box of band-aids with the see through tapes; Listerine Cool Mint mouthwash; Visine eyedrops for allergic-prone eyes.
Posted by etherealfire ::
11:11 PM
::
0 Comments:


---------------oOo---------------
the art and beauty of the tarot card
Tarot card collectors and appreciators of beauty will get an eyeful of it and some handy information as well at
Aeclectic.net
! There is even a section for free readings. An amazing site!
Posted by etherealfire ::
10:38 PM
::
0 Comments:


---------------oOo---------------
Sunday, October 12, 2003
through the eye of the hubble telescope
As much time as I spend with my head in the cosmos, I got an incredible charge when a a member of one of the newsgroup's I frequent posted this
beautiful spot
for Hubble-captured moments of stargazing! I've still got stars in my eyes from it!
Posted by etherealfire ::
1:01 PM
::
0 Comments:


---------------oOo---------------
Saturday, October 04, 2003
a glimpse into the world of the geisha
Have you ever wondered what it would be like to be living
in the world of the geisha/japanese courtesan
? This pair of sites offers a fascinating glimpse.
Posted by etherealfire ::
11:45 PM
::
0 Comments:


---------------oOo---------------