An etherealgirl's Adventures in Cyberland
Monday, January 31, 2005
grandma's red velvet cake
Maybe its because Valentine's Day is coming up but I've been having a massive craving for Red Velvet Cake with Cream Cheese frosting. My Grandma Vera was an amazing cook and her recipe book (the one with handwritten recipes that was coveted by every female in her family) was photocopied several years ago and distributed to all the interested parties. I'm not sure who ended up with the original book now that I think about it. But I've got a really fat (3 inch) 3-ring binder filled with her treasured recipes.
The way I remembered that cake was with cream cheese icing. But when I opened the book and reviewed the recipe, the icing was made differently. I know it was a delicious cake and I don't know where I had it with cream cheese frosting but that is the one I'm craving. But... no alternate frosting listed in the book.
Here's her recipe though. And I know it was an excellent (and very fattening of course) cake, typed up exactly the way she has written it:
Red Velvet Cake

1/2 c. Crisco
1 1/2 c. sugar

Cream these two ingredients together and add:

2 eggs
1 oz. bottle red food colouring
1 1/2 t. cocoa, sifted together with:

1 c. buttermilk. Mix well.

Then add:

1 T. vinegar mixed with
1 t. baking soda

Fold vinegar and soda into batter. Don't beat.

Pour into 2 greased and floured pans.
Bake in 350 degree oven about 40 minutes.

Icing:

1 c. milk
1/4 c. flour
1/4 t. salt

Cook these 3 ingredients until thick. Cool.

While the above ingredients are cooling, Beat:

1/2 c. sugar
1/2 c. Crisco at very high speed until fluffy.

Add the cooled mixture and 1 t. vanilla to the other 2 ingredients until fluffy.
Spread on cake.

Chopped walnuts or coconut may be added.
I have had no luck finding a cream cheese frosting in her book though so I went surfing around the net, and found
this recipe
from the
Dinner Co-op
:
Cream Cheese Frosting
1 8 oz. pkg. cream cheese, softened
1/2 cup butter, melted
1 teaspoon vanilla
3 cups powdered sugar
1 tablespoon milk
Combine all ingredients, mix until smooth.
provided by
Jody Prival
,
Dinner Co-op
And when all else fails, bakeries like
The Cake Shop Pensacola
have red velvet cake instant gratification all ready and waiting...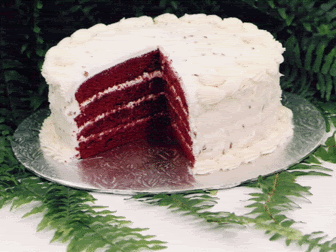 Red Velvet Cake image courtesy of
The Cake Shop Pensacola
Posted by etherealfire ::
2:29 PM
::
0 Comments:


---------------oOo---------------
a decade of insurgency
in Iraq is predicted by a senior US military officer in Baghdad. Telegraph/News article found via
Peace Garden
.
Original article can be found
here
.
Posted by etherealfire ::
11:30 AM
::
0 Comments:


---------------oOo---------------
music personality
found via
Debwire
: cool test,
My Music Personality
Here's what your music says about your personality! Your music preferences have been broken down into four categories. Detailed explanations are below. You can also read answers to common questions.

94 % enjoys reflective and complex music
81 % enjoys edgy and aggressive music
19 % enjoys fun and simple music
45 % enjoys energetic and upbeat music


Reflective & Complex

People high on this dimension tend to enjoy Classical, Blues, Jazz, and Folk music. On the Reflective & Complex Dimension you fell in the 94 percentile. This score is very high.
94 %

Based on your responses, you scored above average on the reflective and complex music-preference dimension. Research in our laboratory indicates that people high on this dimension, like you, often have the following characteristics:

People with high scores on the reflective and complex music-preference dimension tend to be open to new experiences, creative, intellectual, and enjoy trying new things. When it comes to politics, they tend to lean toward the liberal side. Wisdom, diversity, and fine arts are all important to them. When it comes to lifestyle, high scorers tend to be sophisticated, and relatively well off financially. After a hard day of work, if they're not listening to music or reading a book, they enjoy documentary films, independent, classic, or foreign films.


Edgy & Aggressive

People high on this dimension tend to enjoy Alternative, Rock, and Heavy Metal music. On the Edgy & Aggressive Dimension you fell in the 81 percentile. This score is very high.
81 %

Based on your responses, you scored above average on the edgy and aggressive music-preference dimension. Research in our laboratory indicates that people high on this dimension, like you, often have the following characteristics:

People with high scores on the energetic and aggressive music-preference dimension tend to enjoy taking risks and engaging in thrilling experiences. They also tend to be dominant, imaginative, and energetic. They tend to be politically liberal, and believe that freedom, independence, and excitement are important aspects of life. When it comes to lifestyle, lovers of edgy and aggressive music, tend to come from the middle to lower classes. As for media entertainment, they're likely to enjoy watching action, science fiction, fantasy, war, and horror movies.


Fun & Simple

People high on this dimension tend to enjoy Pop, Religious, Country, and Soundtrack music. On the Fun & Simple Dimension you fell in the 19 percentile. This score is very low.
19 %

Based on your responses, you scored below average on the fun and simple music-preference dimension. Research in our laboratory indicates that people low on this dimension, like you, often have the following characteristics:

People with low scores on the fun and simple music-preference dimension tend to introverted, unconventional, and artistic. When it comes to morals and values, chances are that they lean toward the liberal side, and consider beauty and inner harmony important principles in life. When selecting a movie to watch, they prefer suspense movies, cult movies, or foreign films.


Energetic & Upbeat

People high on this dimension tend to enjoy Hip-hop, Rap, Funk, Soul, and Electronic music. On the Energetic & Upbeat Dimension you fell in the 45 percentile. This score is moderate.
45 %

Based on your responses, you scored below average on the energetic and upbeat music-preference dimension. Research in our laboratory indicates that people low on this dimension, like you, often have the following characteristics:

People with low scores on the energetic and upbeat music-preference dimension tend to be introverted, less assertive than the average person, and detail oriented. As for politics and values, they tend to lean to the conservative side, and value intellect, ambition, and high art. When it comes to lifestyle, low scorers on the energetic and upbeat dimension often come from the middle and upper classes. When they're not reading, they're probably watching a romance movie, classic film, or western movie.

This test actually seemed pretty accurate overall but I was surprised at the lower scores, particularly the 19% because the truth is I'm not really particularly elitist in my music tastes, or at at least I don't think I am. I consider myself to have eclectic taste; some might say I don't have very discriminating taste but I don't worry about that kind of thing. Still it pegged my most favourite kinds of music very well. A really fun test, go take it and see how your results compare with your expectations!
Posted by etherealfire ::
9:32 AM
::
0 Comments:


---------------oOo---------------
the free press just a little too free????
Found via
disgruntled democrat
a recent survey shows that a staggering
one out of three
high school students believe that the press ought to be more restricted and have government approval before releasing news stories!
"The survey 'confirms what a lot of people who are interested in this area have known for a long time,' he says: Kids aren't learning enough about the First Amendment in history, civics or English classes. It also tracks closely with recent findings of adults' attitudes.

'It's part of our Constitution, so this should be part of a formal education,' says Dvorak, who has worked with student journalists since 1968. "~~~Greg Toppo USA Today
This explains a great deal about the unbelievable (to me anyway) vibe I've gotten about a general lacking in the ability to think critically in this country. What I cannot believe is how something like this could happen here. A very sobering, very frightening situation.
Original report found
here
.
Posted by etherealfire ::
9:28 AM
::
0 Comments:


---------------oOo---------------
iraqi post-election news
From AP top stories,
Iraq Finishes First-Phase Ballot Count
.
Found at
feministe
, one Iraqi woman explains why she had no intention of voting last Sunday. Original commentary found
here
.
And Healing Iraq's Zeyad gives an account of one Iraqi's
voting experience
.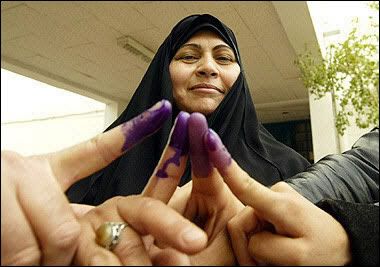 proud Iraqi women voters show their purple-digited solidarity
image from
yahoo's iraqi election slideshow
Posted by etherealfire ::
9:03 AM
::
0 Comments:


---------------oOo---------------
Saturday, January 29, 2005
beck is back!!!!
check out
beck's
new video,
Hell Yes
via
stereogum.com
!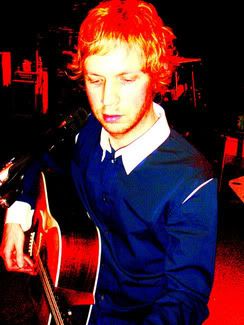 rehearsal for spring "sea change" tour
©
beck 2003
Posted by etherealfire ::
5:55 PM
::
0 Comments:


---------------oOo---------------
what it was like to follow the beatles
Have a listen to a bit of history and a disastrous television debut of
McCall and Brill
,
My Big Break
; includes some funny anecdotes about John Lennon, Davy Jones (yes
that
one), Frank Gorshen and Ed Sullivan.
This is the 2nd story on the clip, but all the stories, especially the third story (jeff and ray go to Iraq) are excellent pieces and well worth listening to!
Found at
This American Life
.
Posted by etherealfire ::
3:27 PM
::
0 Comments:


---------------oOo---------------
and so it begins
Letter to Congress on Increasing US Ground Forces
found at
Project for the New American Century
.
Posted by etherealfire ::
6:38 AM
::
0 Comments:


---------------oOo---------------
Friday, January 28, 2005
january spring
One of the things I love most about living in Southern California is the mild winters that sustain beautiful lush gardens full of flowers. One of my very favourite winter flowers are the California and Iceland poppies that can be found in gardens everywhere.
I found a really mouth-wateringly gorgeous iceland poppy slideshow
here
!
And if you love these flowers as much as I do, you're gonna love the rest of
Judith Gigliotti's heavenly gallery
.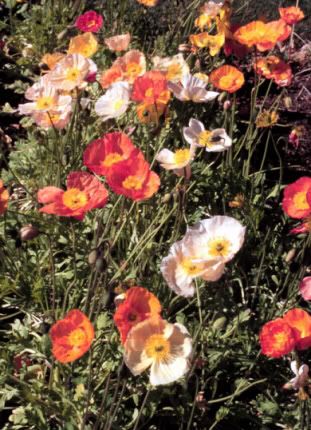 another lovely image of poppies; photo credit: Beth Jarvis
found at
Yard and Garden News
Posted by etherealfire ::
4:03 PM
::
0 Comments:


---------------oOo---------------
images of babylon
check out these
pictures
taken by ginmar of
A View from a Broad
.
Posted by etherealfire ::
2:45 PM
::
0 Comments:


---------------oOo---------------
cartoon madness
Report by Bruce Kluger, found at Alternet
Media Culture
via
Bejata.com
.
"What fueled Dobson's preposterous broadside is the fact that the We Are Family Foundation has posted a 'tolerance pledge' on its web site that makes reference to respecting a person's 'sexual identity' (along with his or her beliefs, culture and race). This clearly doesn't sit well with the Reverend, who insists that such an inclusion 'crosses a moral line' – especially, it seems, in a music video that flaunts interspecies, puppet-cartoon miscegenation.'~~~BK, Alternet, 01-26-2004
BTW, here is the
oh so offensive
pledge
(which I understand is not even going to be part of the video campaign that has been disparaged by the James Dobson gang), in its entirety:
Tolerance is a personal decision that comes from a belief that every person is a treasure. I believe that America's diversity is its strength. I also recognize that ignorance, insensitivity and bigotry can turn that diversity into a source of prejudice and discrimination.

To help keep diversity a wellspring of strength and make America a better place for all, I pledge to have respect for people whose abilities, beliefs, culture, race, sexual identity or other characteristics are different from my own.
Posted by etherealfire ::
2:01 PM
::
0 Comments:


---------------oOo---------------
hubble's future in doubt
BBC News Online
reports
Hubble rescue 'will be scrapped'
.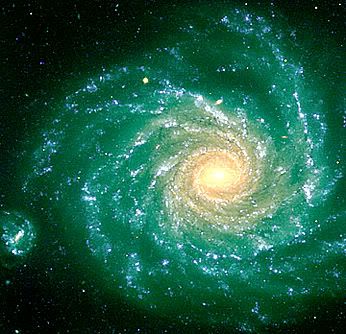 one of the many beautiful images captured by Hubble
I will miss the Hubble Telescope and the window into our Universe so beautifully captured by this hardworking little witness to the stars.
Posted by etherealfire ::
1:21 PM
::
0 Comments:


---------------oOo---------------
hotline post-inaugural comedy show
Democratic Girl
has a
video clip
of the show that was aired on C-Span.
Posted by etherealfire ::
6:27 AM
::
0 Comments:


---------------oOo---------------
fluffy fun stuff
This bit of lovely self-indulgent fun found via the lovely and talented
Debwire
.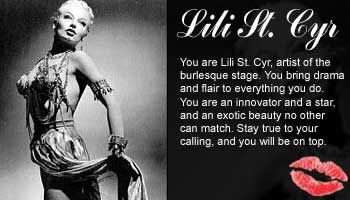 You're Lili St. Cyr!
What Classic Pin-Up Are You?
brought to you by
Quizilla
Posted by etherealfire ::
6:07 AM
::
0 Comments:


---------------oOo---------------
not my daughter
The Daily Kos
has made a round up of
draft news
.
Posted by etherealfire ::
5:51 AM
::
0 Comments:


---------------oOo---------------
more voter fraud allegations from ohio
found via
CoolAqua
.
"Several volunteer workers in the Ohio recount in Clermont County, Ohio have prepared affidavits alleging serious tampering, violations of state and federal law and possible fraud. They name the Republican chief of Clermont's Board of Elections Daniel Bare and the head of the Clermont Democratic Party Priscilla O'Donnell as complicit in these acts.

These volunteers, observing the recount on behalf of the Greens, Libertarians and Democrats, assert that during the Dec. 14, 2004 hand recount they noticed stickers covering the Kerry/Edwards oval, whereas the Bush/Cheney oval seemed to be "colored in."
Original report can be found at
The Raw Story
.
Posted by etherealfire ::
5:23 AM
::
0 Comments:


---------------oOo---------------
Thursday, January 27, 2005
20 questions to a better personality
another fun useless(?) quiz found via
Garnet's Breathing Room
Wackiness: 40/100
Rationality: 56/100
Constructiveness: 76/100
Leadership: 58/100
You are a SRCL--Sober Rational Constructive Leader. This makes you a Ayn Rand ideal.
Taggart? Roark? Galt? You are all of these. You were born to lead. You may not be particularly exciting, but you have a strange charisma--born of intellect and personal drive--that people begin to notice when they have been around you a while. You don't like to compromise, but you recognize when you have to.
You care absolutely nothing what other people think, and this somehow attracts people to you. Treat them well, use them wisely, and ascend to your rightful rank.
Of the 82473 people who have taken this quiz since tracking began (8/17/2004), 5.5 % are this type.
Which Personality Are You?
Posted by etherealfire ::
2:10 PM
::
0 Comments:


---------------oOo---------------
cop pays sticker price
Found
this chilling story
at the always savvy
Sisters Talk
.
original online report found
here
.
For the moment, Freedom of Speech is still protected. How a law enforcement officer could be confused about the law he's required to uphold and protect, is beyond me; and frankly is a frightening prospect.
Posted by etherealfire ::
1:51 PM
::
0 Comments:


---------------oOo---------------
the ethereal nerd factor

Posted by etherealfire ::
1:07 PM
::
0 Comments:


---------------oOo---------------
must be lunchtime~soup's on!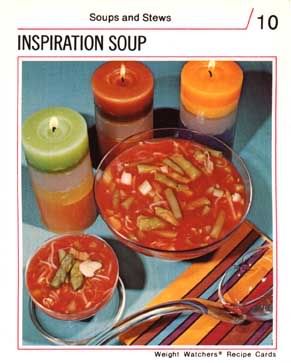 You are Inspiration Soup!! You live to Inspire
those around you with your green beany, white
chunky, red soupy goodness. Many have come and
lit candles in your honor. You've inspired
them to become better people. Thank you,
Inspiration Soup... thank you.
What Weight Watchers recipe card from 1974 are you?
brought to you by
Quizilla
Posted by etherealfire ::
1:01 PM
::
0 Comments:


---------------oOo---------------
remembering the holocaust
CNN has a commemorative site set up,
Auschwitz: 60 Years Since Liberation
.
"This week marks the 60th anniversary of the liberation of Auschwitz -- the Nazi death camp that has come to symbolize the horror of the Holocaust. An estimated 1.5 million people were murdered there -- most of them systematically in gas chambers. Nearly all the victims were Jews. Others included Gypsies, Poles, Catholics, homosexuals and Soviet POWs. For many, the anniversary carries special meaning, as few survivors are expected to be alive in 10 years' time."~~~CNN Special Report
Found link via
variblog
.

image of railway tracks at Auschwitz illuminated by fire
found at
CNN.com


"Let us remember, let us remember the heroes of Warsaw, the martyrs of Treblinka, the children of Auschwitz. They fought alone, they suffered alone, they lived alone, but they did not die alone, for something in all of us died with them."

"I have come to believe that there is only one response, the moral response. Whatever we do must be measured in moral terms. A moral response must not be silent."

~~~Elie Wiesel


Posted by etherealfire ::
10:07 AM
::
0 Comments:


---------------oOo---------------
the religious left?
Utne Reader
has some really great
links to various religious leaders
who provide some food for thought for the left.
Although that word
religion
often has a very negative connotation to those of us who have had extremely negative experiences within the dogmatic constraints of any kind of formalized organized religion, as opposed to the much preferred notion and personal experience of
spirituality
, these links all provide some of the most thoughtful ideas about the meaning of
moral values
within the framework of the more traditional religions. Definitely well-worth the read!
"Of course, non-believers are wary that the phrase 'moral values' is becoming synonymous with religion. Opposition to the war, concern for the poor, and support for environmentally sound policies are, after all, morally rooted positions shared by agnostics and atheists. As comedian Jon Stewart noted while wrapping up an amicable interview with Wallis earlier this week on The Daily Show, "Works without faith, is still pretty good."~~~HL, Utne.com, 01-27-2004
Posted by etherealfire ::
7:01 AM
::
0 Comments:


---------------oOo---------------
Wednesday, January 26, 2005
Mighty Times: The Children's March
SPLC Film Gets Academy Nod
. Information about the documentary can be found
here
.
"'The Children's March' tells the story of how the young people of Birmingham, Ala., braved fire hoses and police dogs in 1963 and brought segregation to its knees. Their heroism complements discussions about the ability of today's young people to be catalysts for positive social change."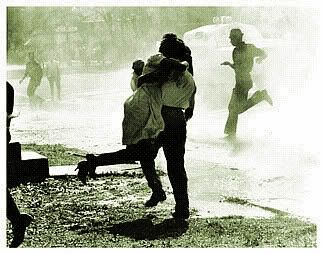 image from
Black History America
, a great civil rights history resource!
Posted by etherealfire ::
5:40 PM
::
0 Comments:


---------------oOo---------------
at a loss for words
what to say that hasn't already been said today about the
Deadliest day for U.S. in Iraq war
yet....
Meanwhile
Operation: Truth
reports on the
Army Division Struggles to Get Heavier Armor
.
Posted by etherealfire ::
1:49 PM
::
0 Comments:


---------------oOo---------------
seabirds suffer climate change
affecting the the North Sea food web;
A Warm Unwelcome
by Audrey Schulman at
Grist Magazine
.
"We humans have a huge stake in preserving the health of the world's oceans. We currently get 16 percent of our animal protein from the seas and, to do that, we already fully exploit or over-exploit more than 60 percent of the world's fisheries. A decline in ocean productivity due to global climate change and acidification would almost certainly mean less food on the table for a ballooning human population."
~~~A Schulman, Grist Magazine 01-25-2004
Posted by etherealfire ::
1:35 PM
::
0 Comments:


---------------oOo---------------
arianna online: the political oscars
In keeping with the 2005 Oscar Nominations that have just been
announced
, Arianna Huffington has just released the Political Oscar recipients, otherwise known as
the Arnolds
; the list can be found
here
.
Posted by etherealfire ::
1:17 PM
::
0 Comments:


---------------oOo---------------
a natural beauty
I really love this beautiful blog,
Inscribed on the Forest Floor
; go check it out if you need a fix of serenity and indulge in the gorgeous images of nature.
Posted by etherealfire ::
1:05 PM
::
0 Comments:


---------------oOo---------------
a great post on the 1st amendment
found at lovely
Klondike Kate's Aurora
!
Posted by etherealfire ::
10:15 AM
::
0 Comments:


---------------oOo---------------
remembering a peruvian songbird
Almost since before I could talk, I loved to sing. And one of my earliest memories is singing in my bedroom in the dark along with recordings of Yma Sumac playing from the living room, when my parents had company and long after I was supposed to be sound asleep. More than anything, I was fascinated by the growling lows and shimmering highs of her incredible five octave range; more than anything I wanted to emulate those sounds. And at 3, 4 and even 5 years of age it never for a moment occurred to me that I couldn't do it. So I contented myself with singing along... until one day I realized that I could be heard by the adults in the living room much to their amusement and my mortification. I remember being really self-conscious about it from that moment on... but I never really forgot my very first music idol.
And so I was inspired to do a quick search this insomia-induced early morning, in commemoration of my very dear, long lost friend, and was rewarded with
this
,
this
and
this
.
Because she is a native of Peru, like my dad, I think he was particularly taken with her; because he was taken with her, I got the opportunity to become acquainted with a voice I might never have otherwise heard. And that, for me, would have been an incredible loss because she was the springboard of inspiration to all kinds of music obsessions for me. It was really great to find some information about her after all these years.
Although, they are different in many ways she reminds me a bit of the wonderful
Sarah Vaughn
in this sense: both had voices that were true instruments in their own right. They could do just about anything with them and better than just about anyone else. Yma's voice though, was always such a creature of nature; I mean to me anyway, she evoked something wild and primitive, especially in her lower range; while her higher range soared like a bird. At least that is the way I remember her voice and I'm getting goose bumps just thinking about it. I would love to hear that voice again and I'm realizing that I don't own one single song and I don't even know if dad has the records anymore... maybe I ought to try to do something about that, now that I've found these sites.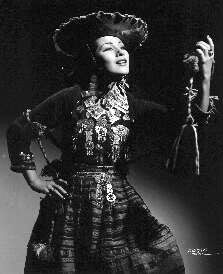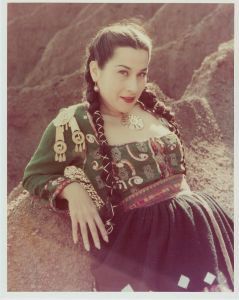 Yma in traditional native Peruvian garb
found at this very cool site
Posted by etherealfire ::
3:53 AM
::
0 Comments:


---------------oOo---------------
the blogging degree
The University of Blogging

Presents to
etherealfire

An Honorary
Bachelor of
Survey Science

Majoring in
Bad Poetry

Blogging Degree
From
Go-Quiz.com
Posted by etherealfire ::
3:49 AM
::
0 Comments:


---------------oOo---------------
Tuesday, January 25, 2005
anger at evangelists in tsunami area
Story can be found
here
.
"The attempts at proselytizing are angering local Christian leaders, who worry that they could provoke a violent backlash against Christians in Sri Lanka, a predominantly Buddhist country that is already a religious tinderbox."
Posted by etherealfire ::
4:25 PM
::
0 Comments:


---------------oOo---------------
from the Light of Reason
Playing God and Embracing Nihilism
.
"The great danger that now faces us – and that faces the world – is that Bush's 'revolutionary' program has its own terrible logic. His speech yesterday makes one conclusion starkly and terrifyingly clear: he has learned absolutely nothing from the events of the last few years, and that logic continues to drive him. He and his supporters therefore seek further destruction, on a still wider scale – and they may not be satisfied until a worldwide conflagration finally stops them."
~~~A Silber, LOR, 01-21-2005
Posted by etherealfire ::
1:53 PM
::
0 Comments:


---------------oOo---------------
Monday, January 24, 2005
the saga of supadubya
warning: explicit language and explicit uncomprising outrage.
watch it
here
.
Posted by etherealfire ::
2:27 PM
::
0 Comments:


---------------oOo---------------
a day in the life of an Iraqi girl
from
Baghdad Burning
, a bit of yesterday's sorrows:
There hasn't been a drop of water in the faucets for six days. six days. Even at the beginning of the occupation, when the water would disappear in the summer, there was always a trickle that would come from one of the pipes in the garden. Now, even that is gone. We've been purchasing bottles of water (the price has gone up) to use for cooking and drinking. Forget about cleaning. It's really frustrating because everyone cleans house during Eid. It's like a part of the tradition. The days leading up to Eid are a frenzy of mops, brooms, dusting rags and disinfectant. The cleaning makes one feel like there's room for a fresh start. It's almost as if the house and its inhabitants are being reborn. Not this year. We're managing just enough water to rinse dishes with. To bathe, we have to try to make-do with a few liters of water heated in pots on kerosene heaters.
Read the entire poignant entry,
Bleak Eid
.
Posted by etherealfire ::
6:35 AM
::
0 Comments:


---------------oOo---------------
Johnny Carson gone
Late Night TV-King Johnny Carson Dies
.
A class act has left us. When I was a young teen, still too young to go out much and, during the week, testing my defiance and independence by staying up late sometimes on weeknights, Johnny was the man who kept me company. Another legacy of 20th century television has left us behind and with his absence an era has passed away.
Bette Midler says goodbye to the legendary Carson in 1992
Posted by etherealfire ::
5:08 AM
::
0 Comments:


---------------oOo---------------
blog housekeeping
I spent the better part of yesterday morning trying to reorganize my extensive blog read list into more logical categories. The only drawback is that by keeping only one group on the blogroll list, I lose the advantage of knowing who has updated so I can quickly find it, within the other categories that I've created. And obsessed blog-reader and link whore that I am, I really do read all my linkies and really wanna know when my favs have updated. But I'm too cheap to pay for an upgraded blogroll (though I'm seriously reconsidering that at this point) and too dorky to figure out if there is another way to get an updating option on all of the blogs without paying for it.
In any case, I wanted to make note of the fact that I've created additional categories and tried to arrange blog-reads in a more organized fashion but in some cases the lines of definition get very blurred so it may not be quite as logically organized as intended. First of all, every female with a blog is a blog goddess in my estimation but if that particular blog goddess is more political blogger than anything else, I tried to leave her blog in the blogroll with all the political bloggers I read. There may be one or two exceptions to that rule as well and that would be those blog goddesses and blog renaissance men that probably blog less politically but that I absolutely have to know right now as soon as they update so I don't miss it so I left them in the blogroll.
The other category that saw the biggest growth were the poets, artists and other visually beautiful blogs that got moved from the political blogroll to the Feed Your Senses category.
I encourage anyone to check all these categories out because they are all wonderful blogs and I love them all. I hope this rearranging will be helpful in checking out blogs with a similar theme or tone to fit any mood.
So, in case anyone cares besides me, the categories are (loosely) as follows:
blue solidarity (political blogs)
all the girls say (not necessarily blogs, female related sites)
blog goddesses (favourite female bloggers, not primarily political)
blog renaissance men (favourite male bloggers, not primarily political)
feed your head (political blogs and think tanks; the big guns)
feed your soul (great spiritual resources of every kind-one of my passions)
feed your senses (blogs that are a treat for one or more of the 5 senses)
happy-fun blogs (blogs that make me smile, that I like just because)
2nd star to the right (space, occult, paranormal blog fun!)
the resourceful ones (self-explanatory: resources)
shining stars (astrology blogs I totally love)
Many of the categories are probably going to grow exponentially in the next few days so keep checking them. Anyway, if you are looking for a blog that was in the blogroll and isn't anymore, then scroll on down because it will be in one of the categories listed. Ummm, okay, end of long and drawn out explanation. That is all....
Posted by etherealfire ::
4:03 AM
::
0 Comments:


---------------oOo---------------
the brave & the few begin to speak out
Few but Organized, Iraq Veterans Turn War Critics
, story found at
The Blur
.
"Who I was before the war, who I was in Iraq and who I am now are three very different men," Corporal Huze said. "I don't think I can ever have the blind trust in the government like I had before. I think that my being over in Iraq as an active participant, I'm a bit more responsible than others for things there. And I think by speaking out now, it's my amends." He added, "I don't know if it will ever balance."~~~Corp. Sean Huze
Posted by etherealfire ::
3:48 AM
::
0 Comments:


---------------oOo---------------
Sunday, January 23, 2005
final score: freedom 27, liberty 15
Since I tend to avoid watching televsion
alot
, especially these days, I miss alot of good stuff. Which is why I'm forever grateful to my fellow bloggers who capture and link to the very best, not to be missed, golden moments, like
this one
captured by the brilliant
On Lisa Rein's Radar
and found via one of my fav blog reads,
i flip flop
.
Posted by etherealfire ::
3:29 AM
::
0 Comments:


---------------oOo---------------
Friday, January 21, 2005
thank you, patriot!
A DU tribute site to leaders of principle
here
.
Posted by etherealfire ::
8:24 PM
::
0 Comments:


---------------oOo---------------
how to make an etherealfire
How to make an etherealfire
Ingredients:

3 parts intelligence

1 part ambition

1 part joy
Method:
Layer ingredientes in a shot glass. Serve with a slice of wisdom and a pinch of salt. Yum!
Posted by etherealfire ::
8:06 PM
::
0 Comments:


---------------oOo---------------
hypocrisy and the evangelical right
I received an email with
this editorial
referenced so I went looking for it online and found it at
MinutemanMedia.org
.
A snippet of
Donald Kaul's Beyond the Beltway's Let Evangelicals Heal Themselves
:
" I do not make any extravagant claims for my own moral worthiness. I'm relatively honest, more or less generous, somewhat compassionate and fairly dependable. I figure that puts me somewhere in the middle third of the population, morals-wise. (If I were in Congress, I'd be in the top 10 percent.)

There's one thing I do not do, however; I do not tell other people how to live their lives. So long as they do not harm others or take advantage of the weak and helpless, I am willing to let them alone and I ask that they do me the same favor."~~~DK, 12-08-04
Posted by etherealfire ::
5:49 PM
::
0 Comments:


---------------oOo---------------
a pair of quizzes from similar minds
found via panthergirl's blog,
the dog's breakfast
Posted by etherealfire ::
3:38 PM
::
0 Comments:


---------------oOo---------------
all around the blogosphere
Since I wasn't able to do so yesterday, I've been trying to catch up with all my favourite blogs and I've been enjoying some great post-inaugural blog reading:
Dissent Channel's
Second Verse, Just Like the First
bird on the moon's
link to Seymour Hersh's The Coming Wars
as well as
the round up inaugural demonstration links entitled good work, everybody
The Cranky Liberal's
Threat to the Family According to James
Daffodil Lane's
What Might Should Have Been
Atrios' Eschaton has a link to a report about Kerry and the response he got at the Inauguration, All Class
Lefty's
A Fair and Balanced Meltdown
semidi's
great Washington Post link to The Bush Junta's New Motto: Hypocrites 'R' Us
Shameless Agitator's
A dog chasing its tail or a snake eating itself?
The Cat's Blog shares William Blum's The Anti-American Report for January 20th
The Republic of T's
An Inaugural Speech
Tholos of Athena's
Invasion of the Body Snatchers Parts I & II
Virushead's Random Musings has a a bunch'o'good linkies that are In the News as well as an Inaugural comparison
Lots more good stuff out there but this list was already getting very long. If you like what you see here, just check out the blogroll for more good stuff.
Posted by etherealfire ::
3:06 PM
::
0 Comments:


---------------oOo---------------
the art of quilting
I wish I knew how to make quilts. Handiwork is something good for body, mind and soul. I've tried to cross stitch before, inspired by a talented friend and my sister-in-law, both are particularly talented with all the various stitching arts, from sewing, knitting, crocheting, et al. Unfortunately, I discovered that I have ten thumbs and not very much patience. But I believe that cultivating that patience is probably one of the major benefits, along with capturing that zen-like single pointed attention that has such a beautifully calming effect. So I think it might be worth it to try again sometime. But until I've mastered some reasonable competence with a small cross-stitch pattern, I think it is unlikely I will have the courage to attempt any kind of a quilting project.
Still, this doesn't prevent me from appreciating the beauty of quilting works of art and I often find myself surfing the various wonderful sites that show off some of these beautiful creations.
A really great resource that
lists
some fine quilters sites is
PBS' A Century of Quilts
. If you love beautiful art and beautiful quilts you can spend hours perusing these gorgeous sites!!!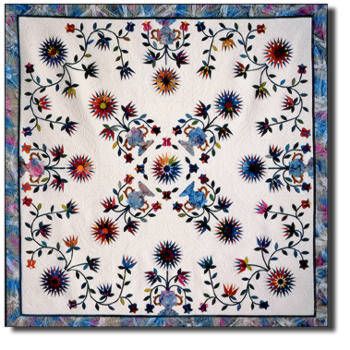 image of gorgeous quilt,
Joie de Vie
,
©2001
Candy Goff
, an incredibly talented quilter!
Posted by etherealfire ::
8:20 AM
::
0 Comments:


---------------oOo---------------
protesters at the inauguration
Code Pink
and various other groups demonstrated at the inauguration yesterday; story
here
.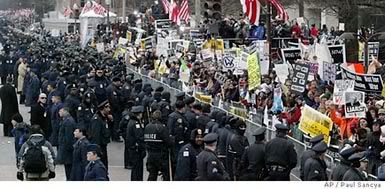 Posted by etherealfire ::
7:38 AM
::
0 Comments:


---------------oOo---------------
boulevard of broken dreams
Part of my survival kit arsenol, and something I'm especially grateful for right now is
Green Day's amazing album, American Idiot:
The song that most reflected my somber sense of aloneness yesterday was
Boulevard of Broken Dreams
. And yet, I've also got the strongest sense that there were 59 million other people sharing my angst.
Boulevard of Broken Dreams
:
"I'm walking down the line
That divides me somewhere in my mind
On the border line
Of the edge and where I walk alone"

This awesome album has been the soundtrack of my emotional life lately. I can really understand the comparison that has been made between this album and
The Who's rock-opera Tommy
.
It's probably Green Day's best work ever imho, and the one thing that I can honestly say is that happy-happy, punk-laced, rough-edged, consistently rocking sound of Green Day has never disappointed me, so that's no small statement.
When I'm enduring a low point in my life, certain bands have never failed to help revive my sense of hope:
Green Day
has consistently been one of those bands. Right now, I'm particularly grateful for the feeling of solidarity and and connection I find within the music
American Idiot
; it's an essential album for me right now.
The best mantra comes from the song,
Holiday
:
"I beg to dream and differ from the hollow lies
This is the dawning of the rest of our lives"
Fasten your seat belts, America, and prepare for a bumpy ride through the dark night of our national collective soul. Oh, what the frightened gutless place inside of me wouldn't give to just be able to sleep through the next four years...
Posted by etherealfire ::
6:33 AM
::
0 Comments:


---------------oOo---------------
no 2nd honeymoon for dubya
story
here
from
CBS News online
.
CBS/Times Poll found
here
.
As President George W. Bush enters his second term, Americans remain divided over his presidency. While most are generally optimistic about the coming four years under his stewardship, they have low expectations for what the President will be able to accomplish. They are not upbeat about the prospects for the economy, their taxes, or the war in Iraq.

58 percent of Americans are optimistic about the coming four years with Bush. But when he first took office in January 2001, this measure stood at 64 percent. Optimism is also lower than the 66 percent rating when Bill Clinton took his oath of office for a second time in January 1997.
Posted by etherealfire ::
5:29 AM
::
0 Comments:


---------------oOo---------------
Tuesday, January 18, 2005
the ground truth and our forgotten soldiers
any and all politics aside, everyone please go watch this heartbreaking two part video from
The Ground Truth
in affiliation with
Operation Truth
found today at
Basement Cross
, while surfing
BE
.
Posted by etherealfire ::
5:34 AM
::
0 Comments:


---------------oOo---------------
the best of hubble
watch a pretty nifty slideshow of some of hubble's greatest visual
hits
here
!
(courtesy one of those wonderfully informative newsgroups I receive email from!)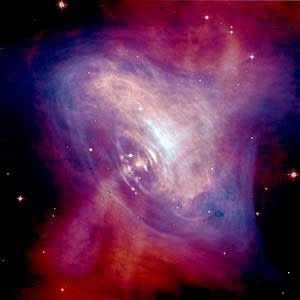 crab nebula pulsar, courtesy
NASA
,
Chandra
and
Hubble
Posted by etherealfire ::
4:48 AM
::
0 Comments:


---------------oOo---------------
subterranean homesick blues
Found
this one
via the very lovely
Sugarfused.net
!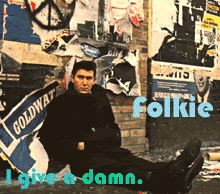 You are a Folkie. Good for you.
What kind of Sixties Person are you?
brought to you by
Quizilla
"You don't need a weather man
To know which way the wind blows..."
~~~~Bob Dylan
Posted by etherealfire ::
1:59 AM
::
0 Comments:


---------------oOo---------------
Monday, January 17, 2005
how to make a labyrinth
Walking is one of my very favourite forms of meditation, because the simple act of stressfree movement in an outdoor environment is truly conducive to being in the moment, that zenlike single-minded attentiveness that sometimes eludes me when I try meditating in other forms.
So when I heard about labyrinth walking a few years back I was fascinated by the concept and wanted to try it sometime. Part of the magick of the experience would be in walking a labyrinth that had some history behind it. I have never had the opportunity to do this yet, and though I hope someday I will, but the patterns themselves are fascinating to look at. It never occurred to me that I might actually be able to
create one of my own
right on the beach, for example. Until I received a link via one of my newsgroups, to
Worldwide Circle of Labyrinths
.
Also found a link to locate a Labyrinth near me, with the
World-Wide Labyrinth Locator
.
And ~ for fun, let your fingers do the walking thru this cool little online virtual
finger meditation tool
~ just click on the image to launch it!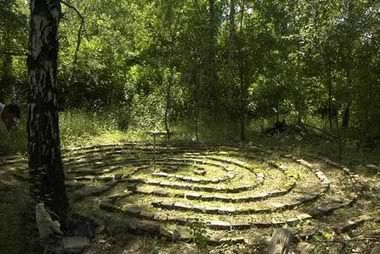 beautiful labyrinth in the woods from
this lovely site
!
Posted by etherealfire ::
9:07 PM
::
0 Comments:


---------------oOo---------------
prescient zappa
here
.
Posted by etherealfire ::
2:38 AM
::
0 Comments:


---------------oOo---------------
Sunday, January 16, 2005
a great American hero
I was going to post some linkies and tributes to Martin Luther King but around the blogosphere so many have already done the job and so well so I decided to link instead to
Rox Populi's
awesome and extensive little list of great MLK related things!
A hauntingly appropriate snippet from MLK's speech
Beyond Vietnam: A Time to Break Silence
:
"This I believe to be the privilege and the burden of all of us who deem ourselves bound by allegiances and loyalties which are broader and deeper than nationalism and which go beyond our nation's self-defined goals and positions. We are called to speak for the weak, for the voiceless, for the victims of our nation and for those it calls 'enemy,' for no document from human hands can make these humans any less our brothers."~~~MLK, 04-06-67
Found via
Rox Populi's
featured MLK links, a fantastic site called
American Rhetoric
.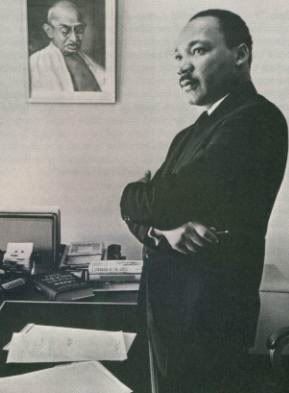 Dr. King in 1966 with Mahatma Gandhi's picure in the background.
The caption under the photo reminds us that MLK was a student of
Gandhi's non-violent methods of civil protest, a model which he
adopted for the American Civil Rights movement.
photo found at the wonderfully extensive resource
MLK Online
!
"Free at last, they took your life
They could not take your pride"
~~~~ U2, Pride (In the Name of Love)
Posted by etherealfire ::
9:45 PM
::
0 Comments:


---------------oOo---------------
my blog has the blues
I found a
Blue Inauguration Meme
via the inspirational
Bread Crumbs
so my blog now officially reflects my blue state of mind and will remain in blue for the next week or so.
Go check it out, and if so inclined go blue next week... and spread the word.
UPDATE!!! Also please go check out the awesome
Sinister Dexterity
, the blog authored by Sean, the brilliant guy who is promoting this brilliant idea!!! Sean Rawks!!!
Posted by etherealfire ::
3:39 AM
::
0 Comments:


---------------oOo---------------
Saturday, January 15, 2005
a national madness
Read and ponder
this very sobering article
found via the amazing
.bird on the moon.
Posted by etherealfire ::
8:06 PM
::
0 Comments:


---------------oOo---------------
where the $150,000 went
Please watch Sarah McLaughlin's
World on Fire
courtesy of
Not this Time, George
.
Note: if video doesn't start up you might need to hit the refresh button.
Posted by etherealfire ::
3:51 AM
::
0 Comments:


---------------oOo---------------
Friday, January 14, 2005
winter bird feeders
I love birds and love watching them eat from our backyard feeder. We haven't been filling the feeders much lately though because our cat removed the belled collar we got for her within no time and she likes to catch birds, something I cannot bear. The feeders also attracts rats who compete for the seed and end up being potential targets for our cat (which I also cannot bear).
As a result, we haven't added seed to our feeders for quite awhile now; since winters are typically mild to non-existent and we have alot of lush plants in our backyard, we still get alot of lovely bird traffic.
But something that hadn't occurred to me before, was to wonder about the possible problems of birds becoming dependent on bird feeders as a primary winter food source.
Audubon: Backyard -- The Winter Banquet
discusses some of the pros and cons of winter bird feeders as well as giving some tips on feeder types; great information for winter bird watchers everywhere.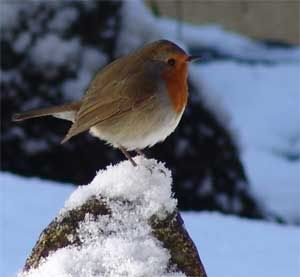 lovely image of robin in winter
photograph by dave hewitt
listed as
profile: dvehwt
from
stock.xchng
Posted by etherealfire ::
9:45 PM
::
0 Comments:


---------------oOo---------------
guitar world 25th anniversary special
The February 2005 edition has just been released and it features a great cover photo (as well as lots of other great shots) by JP best bud/photographer extraordinaire,
Ross Halfin
! Photos were taken last January when Halfin and JP were in LA for the photo shoot and other doings (I think I blogged about it last year - so excited that they were actually within 21 miles of me for a few days... so near yet so far :-P ) and I wondered what ever became of story that it was to be included in - I'd almost forgotten about it completely but little sis spotted on the stands yesterday so now I'm the proud owner of my own copy (as is my daughter - gotta have our own individual copies - no sharing!)
To see some of the great shots Ross Halfin took back on January 16, 2004, go check out
this page
!
Posted by etherealfire ::
8:18 PM
::
0 Comments:


---------------oOo---------------
the sleazy side of punditry
Eric Alterman's column,
The Liberal Media
, at
The Nation
, features a great and timely look at the right-wing propagandists increasingly blatant sleazy tactics, in the January 13th
Pundit Limbo: How Low Can They Go?
"While often annoying, punditry is an honorable and necessary corollary to media in search of the holy grail of objectivity. But the business has fallen into a pathetic state in recent times, as is clear from three scandals, the reactions to which are no less indicative of how low we now go." ~~~EA, The Nation
Posted by etherealfire ::
7:56 PM
::
0 Comments:


---------------oOo---------------
first images from Titan
Go check out the first images from Titan (one of Saturn's moons) being beamed back to the European Space Agency from the Cassini-Huygens probe. Just follow the linkie to the
esa cassini-huygens images page
at the ESA's website!
Found this very cool link via
Posthuman Blues
, one of my blog-read addictions because of very cool links like this one!
Posted by etherealfire ::
7:39 PM
::
0 Comments:


---------------oOo---------------
Thursday, January 13, 2005
insomnia~induced quizzing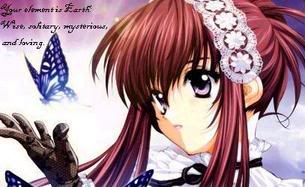 Your element is earth: Wise, solitary, mysterious
and loving. You are very wise. Your wise as in
you know things others do not, you can see past
stereotypes and see the real people behind
their facades, and people will often come to
you for help and advice. Quite solitary and
somewhat shy around people because you prefer
animals and plants, animals aren't afraid to
show themselves or what they are feeling and
plants are fun to nurture. You are very strong
in your silence if you set your mind on
something you will often times pursue it to the
end. Sometimes you just want to get away, so
you seek refuge in the forest where you can
have time to think and try to sort out your
emotions. The sound of the wind usually calms
you, especially moving through the trees. Life
to you is something precious and should not be
taken for granted.
.:-|What is your true element?|-:.
-With Anime Pictures and detailed answers-
brought to you by
Quizilla
Posted by etherealfire ::
1:11 AM
::
0 Comments:


---------------oOo---------------
Wednesday, January 12, 2005
uncompromising beauty: winter
Though it can often be unpleasant at times and sometimes even treacherous, the last few days I've found myself missing the beauty of a wintery landscape. I got my fix at a couple of sites I found today:
Snow Scene Gallery
from
Bella Bona Lux' Picture Gallery
Northwest Outdoor Photography Snow Scenes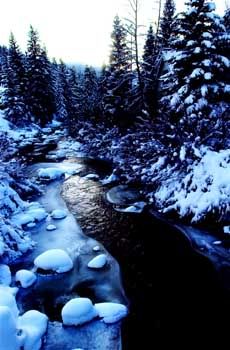 gorgeous image
© Willis Anderson, Photographer
Posted by etherealfire :: 4:00 PM :: 0 Comments:


---------------oOo---------------
pre-zep jp on fresh air
yesterday... and of course, I missed it, and for some reason I cannot get the clips to work for me there. I'm too dense to figure out why it gives the option of real one (which I have), then when I try to play it it converts it to quick-time (which I have) but has this mysterious "smil" thingie on it and then I get a message that it won't convert or something like that. Yes, I am a dork. a very depressed one too because I'm not gonna be able to hear that clip. Oh well, for those who might be interested and who can make it work for them, follow
this linkie
and then scroll down to
The Pre-Zeppelin Jimmy Page
and enjoy it doubly on my behalf as well as yours.... (sob)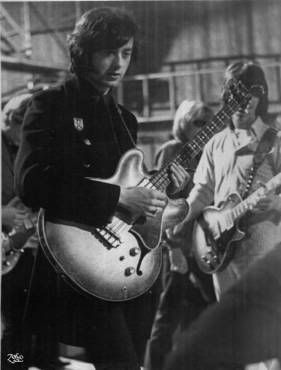 a Yardbirds' era JP playing bass
courtesy the awesomely extensive
Led Zeppelin Photo Album
, my favourite LZ related resource!
Posted by etherealfire ::
3:16 PM
::
0 Comments:


---------------oOo---------------
more useless quiz fun!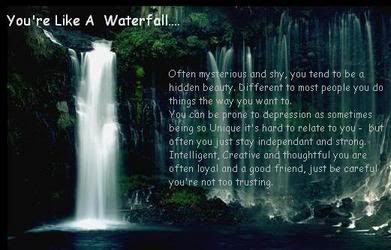 Waterfall
?? Which Natural Wonder Or Disaster Are You ??
brought to you by
Quizilla
found via
Pixie with a Crash Helmet
.
Posted by etherealfire ::
3:12 PM
::
0 Comments:


---------------oOo---------------
ca mud slide warnings continue
story
here
. Meanwhile,
Storm Piles More Snow Across Sierra Nevada
.
After days of non-stop rain, I am grateful that the worst it ever was to me personally was a nuisance and my heart goes out to those who were affected far more painfully and adversely than I was.
Posted by etherealfire ::
2:44 PM
::
0 Comments:


---------------oOo---------------
Tuesday, January 11, 2005
clooney-o'reilly tsunami war
George Clooney takes O'Reilly to task; CNN report found
here
.
part of Clooney's letter:
"I'm booking the talent for the Tsunami event ... and you, Mr. O'Reilly, are now officially invited to be a presenter ... [at this point, not one of the people I've invited to donate their time has said, 'No']. ... This way, you can personally follow up on our fund-raising. ... This is your chance to put your considerable money where your considerable mouth is. ... Show up ... help raise money ... and if we're doing something wrong, point it out.

"Either you ante up and help out and be that watchdog that you feel we clearly need ... or you simply stand on the sidelines and cast stones."
Posted by etherealfire ::
10:59 PM
::
0 Comments:


---------------oOo---------------
"i am not alone"~Armstrong Williams
so says David Corn; read
Capital Games
at
The Nation
.
Posted by etherealfire ::
10:24 PM
::
0 Comments:


---------------oOo---------------
o canada
The rain has finally stopped but all day I've been experiencing a bit of wistful homesickness for
Alberta
in general and
Banff
in particular. Though we only lived in
beautiful Calgary
for nine months, it was an idyllic and almost completely carefree time for our family. And winter, though very cold, was also very beautiful! We lived in the outskirts of Northern Calgary and our house faced a beautiful piece of grazing land full of beautiful cattle; we used to love to watch them out there just peacefully grazing without a care in the world. And many nights we had a beautiful
Northern Light
show on display.
I'll never forget the first time I saw
Lake Louise
or that incredible aquamarine shimmering beauty of the water and the reflection of the mountains in its mirrored face. I came across the explanation for it again while looking at
this lovely site
!
"These lakes are blessed with a brilliant blue color which results from the light filtering effect of rock flour (a powdery substance that the glaciers grind off the mountain rocks) in the glacial runoff."~~~from gryphonpark.com
I hope that someday, we will get to take a train up to Canada and through the Canadian Rockies and, if we do, I hope we can spend several days in the beautiful Banff area and (nearby) Calgary once more. I don't remember my dreams very often at all, but one of the most vivid ones I've ever had is part memory of standing along the shore of Lake Louise and gazing into those mystical beautiful waters, and (Calgary-born)
Jann Arden's
wonderdrug
, floating through that rarified air. A little slice of heaven!
beautiful image,
Lake Louise Sunrise
© talented photographer Ron Niebrugge
Check out all of his most beautiful images at
Niebrugge Images
and prepare to be completely enchanted!
Posted by etherealfire ::
7:49 PM
::
0 Comments:


---------------oOo---------------
Monday, January 10, 2005
in case you missed Face the Nation
like I always do (guilty as charged....I'm just mostly allergic to all the supposedly
leftwing
media to say nothing of the so-called
fair and balanced
right wing media) please go check out this
brilliant post
with all the great emphasis added so you can feel as though you were there the first time around ~ from brilliant Kate S. posting over at the lovely and talented
Chepooka's blog
!
Posted by etherealfire ::
7:10 PM
::
0 Comments:


---------------oOo---------------
and because i can't resist
making a Jimmy Page post whenever possible, I dug up a photo that I have of JPP and Michael Moore together at the
2002 ABC Trust Samba Christmas Party
, for the charity that Jimmy and his lovely and kind-hearted wife Jimena (I'm not worthy...sigh...) sponsor!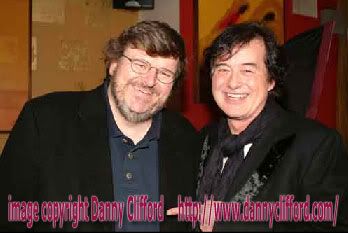 JPP/MM 2002 Samba Christmas, by photographer
Danny Clifford
Posted by etherealfire ::
4:21 PM
::
0 Comments:


---------------oOo---------------
Ukraine pulling out of Iraq
story
here
.
and lest we forget Poland:
"Poland, which has the third-largest contingent in Iraq after the US and Britain, says it is likely to withdraw from Iraq in 2005, but no specific date has been given."
Posted by etherealfire ::
3:55 PM
::
0 Comments:


---------------oOo---------------
i can't believe i missed this
In following the Al Franken AAR Blog I frequently find lots of informative stuff that the very astute bloggers post over there. Today has been no exception, but I'm amazed that I didn't read
this report
from the wonderful
Truthout
alot sooner.
The article dated December 1, 2004, reports Bill Moyers acceptance speech
On Receiving Harvard Med's Global Environment Citizen Award
and it goes a long way in explaining the frightening mindset of many of the Religious Right.
"So what does this mean for public policy and the environment? Go to Grist to read a remarkable work of reporting by the journalist, Glenn Scherer - 'The Road to Environmental Apocalypse.' Read it and you will see how millions of Christian fundamentalists may believe that environmental destruction is not only to be disregarded but actually welcomed - even hastened - as a sign of the coming apocalypse.

As Grist makes clear, we're not talking about a handful of fringe lawmakers who hold or are beholden to these beliefs. Nearly half the U.S. Congress before the recent election - 231 legislators in total - more since the election - are backed by the religious right. Forty-five senators and 186 members of the 108th congress earned 80 to 100 percent approval ratings from the three most influential Christian right advocacy groups. They include Senate Majority Leader Bill Frist, Assistant Majority Leader Mitch McConnell, Conference Chair Rick Santorum of Pennsylvania, Policy Chair Jon Kyl of Arizona, House Speaker Dennis Hastert, and Majority Whip Roy Blunt. The only Democrat to score 100 percent with the Christian coalition was Senator Zell Miller of Georgia, who recently quoted from the biblical book of Amos on the senate floor: 'the days will come, sayeth the Lord God, that i will send a famine in the land.' he seemed to be relishing the thought.

And why not? There's a constituency for it. A 2002 TIME/CNN poll found that 59 percent of Americans believe that the prophecies found in the Book of Revelation are going to come true. Nearly one-quarter think the Bible predicted the 9/11 attacks. Drive across the country with your radio tuned to the more than 1,600 Christian radio stations or in the motel turn some of the 250 Christian TV stations and you can hear some of this end-time gospel. And you will come to understand why people under the spell of such potent prophecies cannot be expected, as Grist puts it, 'to worry about the environment. Why care about the earth when the droughts, floods, famine and pestilence brought by ecological collapse are signs of the apocalypse foretold in the Bible? Why care about global climate change when you and yours will be rescued in the rapture? And why care about converting from oil to solar when the same God who performed the miracle of the loaves and fishes can whip up a few billion barrels of light crude with a word?' "~~~Bill Moyers
To read the whole thing is a very real, very scary eye-opener..... but I think he's totally got his pulse on the dilemma we currently face. I just haven't been able to understand how we have gotten into such an absurd situation but the power of the fringe media is absolutely not to be underestimated.
Posted by etherealfire ::
3:16 PM
::
0 Comments:


---------------oOo---------------
Michael Moore is the People's Choice
Michael Moore has won the People's Choice Award for best movie with
Farenheit 9/11
!
Read speech
here
and watch the video snippet
here
!

image from
Farenheit 9/11 official site
The American People have spoken!
Posted by etherealfire ::
2:16 PM
::
0 Comments:


---------------oOo---------------
rossi will have his day in court
Voting postmortem in Washington
from
the Oregonian
.
"Dino Rossi and his supporters have a right to go to court, but it's hard to see the governor's election being voided."
Posted by etherealfire ::
2:03 PM
::
0 Comments:


---------------oOo---------------
rain, rain go away
Another day of
endless rain in southern california
and other regions.
Wishing for a reprieve but it looks like we can look forward to more of the same for awhile....
Posted by etherealfire ::
1:44 PM
::
0 Comments:


---------------oOo---------------
Sunday, January 09, 2005
scary times for females
Go check out
this well-thought out post
from
homegrown daisy
that brings together some frightening recent news affecting women.
Posted by etherealfire ::
11:46 AM
::
0 Comments:


---------------oOo---------------
all of my love...to you
Happy Birthday to my #1 crush, inspirational muse and Guitar God extraordinaire, the ageless and immortal James Patrick Page, Version 6.1 (61 beautiful years young) today!!!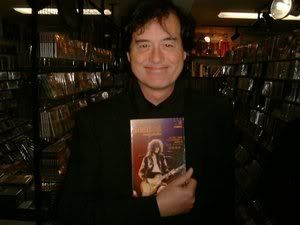 image taken in music store (in Japan I think, circa 2004).
Found the image in my raving fan-girl enormous eye candy (Jimmy Page) photo collection...
My apologies for not knowing the photographer to give proper credit for it anymore. :-(
Posted by etherealfire ::
2:49 AM
::
0 Comments:


---------------oOo---------------
Saturday, January 08, 2005
meet the flinstones?
"In the beginning...Adam walked with dinosaurs"
or so says Ken Ham, Australian evangelist who is building a multi-million-dollar Museum of Creation in Kentucky this spring. Reported by James Langston at the
news.telegraph online
.
"The centrepiece of the museum is a series of huge model dinosaurs, built by the former head of design at Universal Studios, which are portrayed as existing alongside man, contrary to received scientific opinion that they lived millions of years apart."
I kept looking for some indication that this was some kind of a put-on but... um, apparently not..... but wait there's more... read the article...
if you dare
.
If anyone had told me that something like this would be possible in the 21st century I would have laughed at them. Somehow I'm having a hard time finding the whole thing funny right now... strange days indeed... :-(
Posted by etherealfire ::
10:11 PM
::
0 Comments:


---------------oOo---------------
Friday, January 07, 2005
Stephanie Tubb Jones statement
from
her website
:
Congresswoman Tubbs Jones Objects to Certification of Ohio Electoral Votes
Washington, D.C. –Today, Congresswoman Stephanie Tubbs Jones, along with Senator Barbara Boxer (CA), entered a formal objection to the certification of the State of Ohio's Electoral Votes. Her prepared floor statement, in part, was as follows:
"I, Stephanie Tubbs Jones, a representative from Ohio, and Ms. Boxer, a Senator from California, object to the counting of the electoral votes of the State of Ohio on the ground that they were not, under all of the known circumstances, regularly given.
"I, thank God, that I have a Senator joining me in this objection. I appreciate Senator Boxer's willingness to listen to the plight of hundreds and even thousands of Ohio voters that for a variety of reasons were denied the right to vote. Unfortunately objecting to the electoral votes from Ohio is the only immediate avenue to bring these issues to light.
"While some have called our cause foolish I can assure you that my parents, Mary and Andrew Tubbs did not raise any fools and as a lawyer, former judge and prosecutor, I am duty bound to follow the law and apply the law to the facts as I find them.
"It is on behalf of those millions of Americans who believe in and value our democratic process and the right to vote that I put forth this objection today. If they are willing stand at the polls for countless hours in the rain as many did in Ohio, then I can surely stand up for them here in the halls of Congress.
"This objection does not have at its root the hope or even the hint of overturning or challenging the victory of the President; but it is a necessary, timely and appropriate opportunity to review and remedy the most precious process in our democracy."
"I raise this objection neither to put the nation in the turmoil of a proposed overturned election nor to provide cannon fodder or partisan demagoguery for my fellow Republican Members of Congress.
"I raise this objection because I am convinced that we as a body must conduct a formal and legitimate debate about election irregularities. I raise this objection to debate the process and protect the integrity of the true will of the people.
"Again, I thank Senator Boxer for joining me in this objection to the counting of Ohio's electoral votes due to the considerable number of voting irregularities that transpired in my home state.
"There are serious allegations in two lawsuits pending in Ohio that debate the constitutionality of the denial of provisional ballots to voters (The Sandusky County Democratic Party v. J. Kenneth Blackwell) and Ohio's vote recount (Yost v. David Cobb, et al.). These legitimate questions brought forward by the lawsuits, which go to the core of our voting and Democratic process, should be resolved before Ohio's electoral votes are certified.
"Moreover, as you are aware, advancing legislative initiatives is more challenging when you are in the minority party in Congress. However, this challenge is multiplied when you are in the minority in the House of Representatives because of House rules, compared to Senate rules.
"Voting irregularities were an issue after the 2000 presidential election, when Democratic House initiatives relating to election reform were not considered.
"Therefore, in order to prevent our voices from being kept silent, it is imperative that we object to the counting of Ohio's electoral votes and debate the issue of Ohio's voting improprieties.
"There are just over 1 million registered voters in Cuyahoga County - which of course includes the Greater Cleveland area and the 11th Congressional District which I represent. Registration increased approximately 10 percent.
"The beauty of the 2004 election was that more people were fully prepared to exercise their right to vote - however on Election Day hundreds and even thousands of individuals went to the voting polls and were denied the opportunity to have their vote count.
"In my own county where citizen volunteers put forth a Herculean effort to register, educate, mobilize and protect the vote there were people who experienced irregularities.
"Poor and minority communities had disproportionately long waits - 4 to 5 hours waits were widespread. Election Protection Coalition testified that more than half of the complaints about long lines they received "came from Columbus and Cleveland where a huge proportion of the state's Democratic voters live. One entire polling place in Cuyahoga County (Greater Cleveland) had to "shut down" at 9:25 a.m. on Election Day because there were no working machines.
"Cuyahoga County had an overall provisional ballot rejection rate of 32 percent. Rejection rates for provisional ballots in African American precincts/wards in Cleveland, Ohio averaged 37 percent and ranged as high as 51 percent.
"Thousands of partisan challengers - concentrated in Cuyahoga County's minority and Democratic communities - effectively served to intimidate voters and confuse poll workers. There were both inconsistent and illegal requests for photo identification.
"There were problems with absentee ballots including incorrect information provided to voters by the Secretary of State and, consequently, the Cuyahoga County Board of Elections telling voters they could not vote in their precinct – effectively disenfranchising hundreds and more likely thousands of voters.
"This objection points out the inadequacy of a great election system which permits 50 Secretary's of State to administer a federal election and impose so many different state laws regulating the election.
"In Ohio, the Secretary of State Kenneth Blackwell who served as Co-Chair of the Bush re-election campaign, issued a bizarre series of directives in the days preceding the 2004 Presidential election that created tremendous confusion among voters in Cuyahoga County and across the state of Ohio.
"For example; on September 7, 2004, Secretary Blackwell issued a directive to local boards of elections mandating rejection of voter registration forms based on their paperweight – 80lb text weight. Mr. Blackwell's issuance of this directive – which he ultimately reversed by September 28, 2004 - resulted in serious confusion and chaos among the counties and voters.
"My objection points to the need to implement across this nation standards that apply to all states. We need to enact legislation that will:
* Allow all voters to vote early - so that obligations of employment and family will not interfere with the ability to cast a vote.
* Establish a national holiday - Election Day to bring attention to the importance of the vote.
* Require those who work in the voting booth to be fairly compensated, adequately educated and sufficiently supported such that the job importance will be elevated.
* That will provide equipment - whether it is the traditional punch card or the more modern electronic machines that are properly calibrated, fully tested for accuracy and provide a paper trial to ensure a verifiable audit of every vote.
"What happened in Ohio may well have been repeated in counties across this country. Yet that is no excuse for us to push the irregularities behind us and go on with the business of the day. These incidents are a call for us to clean up, clear up and implement policies and procedures that will protect each citizen's precious right to vote.
"If in fact we see it is our obligation to secure democracy around the world to monitor and oversee free and fair elections in other countries surely we must ensure, protect and guarantee the right to vote right here at home."
Posted by etherealfire ::
1:37 PM
::
0 Comments:


---------------oOo---------------
Barbara Boxer's statement
Senator Boxer's Statement On Her Objection To The Certification Of Ohio's Electoral Votes
January 6, 2005
For most of us in the Senate and the House, we have spent our lives fighting for things we believe in -- always fighting to make our nation better.
We have fought for social justice. We have fought for economic justice. We have fought for environmental justice. We have fought for criminal justice.
Now we must add a new fight -- the fight for electoral justice.
Every citizen of this country who is registered to vote should be guaranteed that their vote matters, that their vote is counted, and that in the voting booth of their community, their vote has as much weight as the vote of any Senator, any Congressperson, any President, any cabinet member, or any CEO of any Fortune 500 Corporation.
I am sure that every one of my colleagues -- Democrat, Republican, and Independent -- agrees with that statement. That in the voting booth, every one is equal.
So now it seems to me that under the Constitution of the United States, which guarantees the right to vote, we must ask:
Why did voters in Ohio wait hours in the rain to vote? Why were voters at Kenyan College, for example, made to wait in line until nearly 4 a.m. to vote because there were only two machines for 1300 voters?
Why did poor and predominantly African-American communities have disproportionately long waits?
Why in Franklin County did election officials only use 2,798 machines when they said they needed 5,000? Why did they hold back 68 machines in warehouses? Why were 42 of those machines in predominantly African-American districts?
Why did, in Columbus area alone, an estimated 5,000 to 10,000 voters leave polling places, out of frustration, without having voted? How many more never bothered to vote after they heard about this?
Why is it when 638 people voted at a precinct in Franklin County, a voting machine awarded 4,258 extra votes to George Bush. Thankfully, they fixed it -- but how many other votes did the computers get wrong?
Why did Franklin County officials reduce the number of electronic voting machines in downtown precincts, while adding them in the suburbs? This also led to long lines.
In Cleveland, why were there thousands of provisional ballots disqualified after poll workers gave faulty instructions to voters?
Because of this, and voting irregularities in so many other places, I am joining with Congresswoman Stephanie Tubbs Jones to cast the light of truth on a flawed system which must be fixed now.
Our democracy is the centerpiece of who we are as a nation. And it is the fondest hope of all Americans that we can help bring democracy to every corner of the world.
As we try to do that, and as we are shedding the blood of our military to this end, we must realize that we lose so much credibility when our own electoral system needs so much improvement.
Yet, in the past four years, this Congress has not done everything it should to give confidence to all of our people their votes matter.
After passing the Help America Vote Act, nothing more was done.
A year ago, Senators Graham, Clinton and I introduced legislation that would have required that electronic voting systems provide a paper record to verify a vote. That paper trail would be stored in a secure ballot box and invaluable in case of a recount.
There is no reason why the Senate should not have taken up and passed that bill. At the very least, a hearing should have been held. But it never happened.
Before I close, I want to thank my colleague from the House, Congresswoman Stephanie Tubbs Jones.
Her letter to me asking for my intervention was substantive and compelling.
As I wrote to her, I was particularly moved by her point that it is virtually impossible to get official House consideration of the whole issue of election reform, including these irregularities.
The Congresswoman has tremendous respect in her state of Ohio, which is at the center of this fight.
Congresswoman Stephanie Tubbs Jones was a judge for 10 years. She was a prosecutor for 8 years. She was inducted into the Women's Hall of Fame in 2002.
I am proud to stand with her in filing this objection.
courtesy of
Move On
Posted by etherealfire ::
1:36 PM
::
0 Comments:


---------------oOo---------------
two heroes of democracy
I was frankly so depressed yesterday I couldn't bring myself to post this sooner, but I want to say thank you to the courageous women and men who stood up for every US Citizen's right to have their vote counted yesterday. In particular, I'm so very proud of Barbara Boxer the lone Calfornia Senator who stood with Representative Stephanie Tubbs Jones despite the risk of censuring from their
so-called
peers.
It is obvious by the completely gutless response of every other Democratic Senator that their taking this stand was something risky and dangerous to their very careers.
In truth, it really isn't any wonder that they have much to be concerned about, when the House and Senate is controlled by such
illustrious
members as Tom DeLay and Dennis Hastert, et al. Like many others in this country (48%???), I have long been cynical about the way congress works (or rather how it really doesn't seem to work at all most of the time) and how far from the original ideal the whole process has become.
But the blatant lack of integrity and the complete arrogance with which it is put on display, by the likes of Tom DeLay is utterly contemptible. They do what they do and without fear of any reprisals because they have been given (or was it stolen???) free reign to do whatever they want, thanks to their stronghold over both houses. They do it because they think that the majority of people in this country are either asleep, utterly stupid or just really don't care.
It's a dark day for democracy in this country and there is going to be zero chance of congress making any real attempt to provide us guaranteed unified national voter reform; none whatsoever. Despite 101 pages of EVIDENCE of voter discrepancies and outright fraud in Ohio (and other states), the evidence will not be reviewed and nothing will be done to rectify the situation or guarantee that it will not happen again.
Meanwhile,
THE ONLY ELECTION IN THE COUNTRY
, where there is serious talk of having a new vote taken, is where a Republican lost due to recount. This is blatantly telling. And every single citizen should be very afraid. Because ultimately this is not about
your side
winning. It is about your vote potentially not counting.
Posted by etherealfire ::
1:34 PM
::
0 Comments:


---------------oOo---------------
what it's like for a girl
This story
is heartbreaking enough because the young girl in question already narrowly missed losing her own life while witnessing the loss of her family. But as you read more of the story, it really brings home the added vulnerabilities of being a poor young woman in a deeply patriarchal culture and at the mercy of the local society's judgments and opinions.
This and a thousand other similar stories are being played out right now in the aftermath of this horrific event and it is just heartbreaking. Thousands of vulnerable children and young women are being exploited ~ its just hideously unbelievable.
Posted by etherealfire ::
1:23 PM
::
0 Comments:


---------------oOo---------------
Wednesday, January 05, 2005
Helen Thomas on the last liberal voice
Liberal Voices Disappearing From Mainstream Media
found at
Common Dreams News Center
via
Air America Radio News Stories
.
"During his 30 years in public television, Moyers displayed outsized courage in tackling controversial issues. He didn't lighten up when he made his farewell broadcast on Dec. 13, lacing his parting shots with some tough observations on the state of the broadcast industry today and journalism in general."~~~HT
Posted by etherealfire ::
9:35 PM
::
0 Comments:


---------------oOo---------------
Zep to receive Grammy Lifetime Achievement Award!
News found at
KLOS Rock Report Online
after my lil sis informed me that she heard it reported on the radio tonight!
Found another blurb about it at
Blabbermouth.net
as well!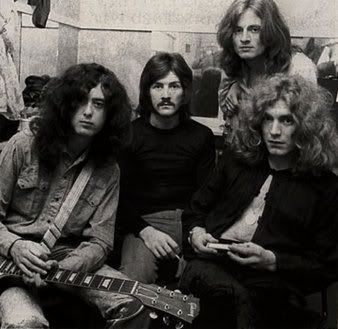 The Mighty Zep!!! Long Live Rock!!!
Oh and a belated Happy Birthday to John Paul Jones, who shares the same day (though not quite the same year) as me! I can't believe I forgot to post that earlier but then I wasn't really online that day anyway.
Happy 59th Birthday, JPJ (January 3, 1946)!!!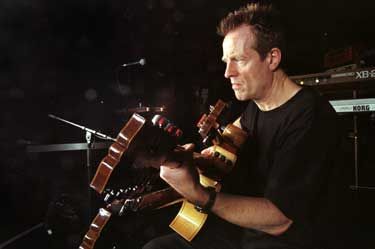 JPJ March 2000 image found at the awesome
Scott Olson Photography
Posted by etherealfire ::
8:05 PM
::
0 Comments:


---------------oOo---------------
groups in Alabama shun public education?
This unbelievable story
found at
The BlurBelt
.
"Well, heaven forbid that the children of Alabama — who do so horribly on national tests that even a Republican governor tried to make changes, only to find himself thwarted by the Christian Coalition — get a shot at a decent education. Wouldn't want to have to pay for it, you know."
The biggest mystery to me is why the same people who look upon utilizing our government to work for the people as some kind of evil deed, those very same people who believe that church and community should support the people instead, are so very often the very same people who will turn their back on the disenfranchised and only take care of
their own
and then behave as though they can't see the discrepency and inequality of it all. It's baffling and it's shameful. And almost entirely without exception, these same people are the ones that supposedly believe in the teachings of Christianity. It just boggles the mind....
Posted by etherealfire ::
1:52 PM
::
0 Comments:


---------------oOo---------------
i feel his pain
We went to see
Meet the Fockers
, for my birthday a couple of days ago, rounding out our post-holiday theatre-going. I really wanted to see it too, but I dunno, I guess I was already feeling kinda down and it just hit me...wrong. As much as I hate to say it, I really felt for Greg because.... well I think it just hit a little too close to home.
I mean I've really got the best parents in the world and at my age, you'd think I'd have come to terms with all those...embarrassing little foibles that can sometimes seem overwhelmingly monumental when you are young and maybe not so sure of yourself. And really, I thought I had... but sitting there watching the movie... well, at times it was just downright painful. And I suppose that's probably all I'm gonna say about that. Except that I think I will want to watch it again when it comes out on video because I really think that part of the problem was that I wasn't feeling very well and it just affected me strangely.
Did I mention that I've really got wonderful parents? Wonderful, funny, at-times eccentric, and completely uncensored parents??? heh...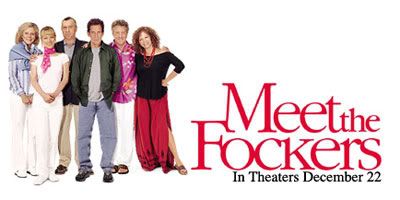 Posted by etherealfire ::
1:50 PM
::
0 Comments:


---------------oOo---------------