An etherealgirl's Adventures in Cyberland
Friday, December 31, 2004
Happy New Year!
Well, we'll be heading out to do our movie marathon thing later today so I probably won't be blogging again till tomorrow or the next day.
So everyone stay safe and have a responsible and FUN New Year's Eve.
And if I don't see you till 2005:

New Years gif found at
Annie's Place
!
Posted by etherealfire ::
8:52 AM
::
1 Comments:


---------------oOo---------------
dreaming soul
another fun quiz found while surfing; this one was found via the lovely and talented
Spellbound
!
You Are a Dreaming Soul






Your vivid emotions and imagination takes you awy from this world
So much so that you tend to live in your head most of the time
You have great dreams and ambitions that could be the envy of all...
But for you, following through with your dreams is a bit difficult

You are charming, endearing, and people tend to love you.
Forgiving and tolerant, you see the world through rose colored glasses.
Underneath it all, you have a ton of passion that you hide from others.
Always hopeful, you tend to expect positive outcomes in your life.

Souls you are most compatible with: Newborn Soul, Prophet Soul, and Traveler Soul

Posted by etherealfire ::
7:51 AM
::
0 Comments:


---------------oOo---------------
a between-naps post
heh... (blush)
Your New Years Resolution Should Be: Wake up before noon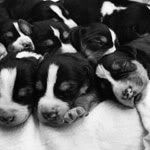 You've been accused of sleeping your life away
And it's a little bit true - you are really into your pillow
In fact, it may be years since you've seen a sunrise at the *start* of your day
Sleep a little less. Some sunshine would do you good.

but see, I've
actually
got insomnia, and a very mixed up timetable.... yeah...
Another fun quiz found via another fun blog,
Reflections: Just My Opinion
!
Posted by etherealfire ::
7:01 AM
::
0 Comments:


---------------oOo---------------
beyond the sea
To celebrate
little sis's
birthday a day later (her birthday is the 29th but we didn't get to go till the 30th) we went to see
Beyond the Sea
, Kevin Spacey's vanity project that I think may have gotten some negative reviews.
But I gotta say, I loved this movie! It was a welcome momentary relief from all the bad news going on right now. And I think Suzanne (perhaps needless to say, a mega-Spacey Fan) really loved it, too. Now, if we can just get it together and take a moment to sing Happy Birthday and grab a slice of cheesecake before New Year's Day, we'll have really accomplished something. She opened presents on the 29th but we were too full too indulge in cheesecake that night and we made the same mistake last night as well.
Maybe we better have it for lunch today!
movie still from
Beyond the Sea
Posted by etherealfire ::
6:20 AM
::
0 Comments:


---------------oOo---------------
Thursday, December 30, 2004
surf gem
Just stumbled across a March 2nd, 1940 radio interview with Woody Guthrie by Alan Lomax, currently being aired right now, via
KPFK's Global Village, Thursdays with John Schneider
. A fascinating captured moment in the life of a great American folk hero.
Posted by etherealfire ::
10:28 AM
::
0 Comments:


---------------oOo---------------
christmas under siege?
As another Holiday season winds down, I found this piece on
The True Spirit of Xmas
by Julian Sanchez from
ReasonOnline
.
"So are we really seeing an unprecedented wave of hostility toward either Christmas or Christianity? Or is it, rather, that the waning of the cultural hegemony to which some Christians have come to feel entitled is perceived as an attack? Many of the most loudly trumpeted complaints in this vein are, after all, complaints about the absence of special treatment: no special spot for the Ten Commandments in the courthouse rotunda; no pride of place for Christmas among those happy winter holidays; no exceptions for the Christian charity." ~~~JS
Posted by etherealfire ::
10:15 AM
::
0 Comments:


---------------oOo---------------
more heartbreaking news from Indonesia
India issues Tsunami Alert; CNN story
here
.
Meanwhile, CNN is also reporting that
Asia Tsunami Death Toll May Pass 100,000
.
I tried to make a donation yesterday but was unsuccessful; this is probably a really good sign that many, many people are trying to help. I had better luck today, finally able to get a donation through to Doctors Without Borders, but it took some doing so for any of you having trouble trying to get through, don't give up!
Just received this detailed list from my
Act for Change Newsletter
:
Donate to Groups Responding to the Tsunami Disaster
Below is a list of just a few of the many groups providing critically needed humanitarian aid to tsunami victims. Please consider making a generous donation to one or more of these groups.
American Friends Service Committee (AFSC Crisis Fund)
1-888-588-2372
Doctors Without Borders/Medecins Sans Frontieres
1-888-392-0392
U.S. Red Cross
1-800-435-7669
International Red Cross
Mercy Corps
1-800-292-3355
Please note that some of these sites are experiencing heavy traffic, so try back if you are having trouble getting through.
Posted by etherealfire ::
5:48 AM
::
0 Comments:


---------------oOo---------------
Tuesday, December 28, 2004
tsunami death toll reaches 33,000
One of the most tragic post-Christmas news events in recent memory, CNN is now reporting that
the death toll
from the the 9.0 earthquake-triggered tsunamis ravaging through the Indian Ocean, has left over 33,000 people dead and a frantic international community scrambling to cope with the aftermath.
"The United Nations is asking donor countries to dig deeper, saying this will likely be the costliest disaster ever."
A list of aid agencies that are accepting contributions for assistance that they or their affiliates are providing for those affected by the earthquake and tidal waves in Asia can be found
here
.
Posted by etherealfire ::
6:53 AM
::
0 Comments:


---------------oOo---------------
Monday, December 27, 2004
i'm an etherealgirl


It's been a crazy couple of days between lovely holiday festivities and news from home, as well as helping my little sis with her move-in. So I've been trying to relax this evening, mainly by just cruising my fav journal-reads and going through the updated list at my journal's host, the most awesome diary-x.

Don't get me wrong: I also love my most awesome blogging host, Blogger, but I like to keep both an online journal and a blog for separate types of entries. I know alot of people (my lil sis and my daughter included) like the convenience of using a blog or a journal as a one-stop spot for both personal observations and journal-type entries as well as link tracking but I prefer to try to keep the two types of posting, separate. Just works for me better, I guess. So I really love having a blog and an online journal.

Eh, I'm so drained I'm just blathering senselessly this evening...

Anyway, while cruising the updated list, I found this quiz, via hidamali's journal:





You are a New Age Girl!


You're bright, opinionated, and dedicated to changing the world.
Even if it's one hybrid car at a time, you do you part to make things better.
In fact, you may be so busy with your causes that you have little time for love.
Take an extra yoga class or two, and you just might meet New Age Guy!




What Kind of Girl Are You? Take This Quiz :-)



Find the Love of Your Life
(and More Love Quizzes) at Your New Romance.









Posted by etherealfire ::
11:35 PM
::
0 Comments:


---------------oOo---------------
Friday, December 24, 2004
stairway #1 rock song of all time
"Led Zeppelin's Stairway to Heaven is the greatest rock song ever recorded, according to a new poll."
Story can be found
here
!
Just taking a quick break between our traditional Christmas Eve movie,
It's A Wonderful Life
our Christmas Eve walk and getting my
Neopets
their daily Advent Calendar gifts and then up next it looks like we our going to open presents tonight.
When I saw this article I had to post it now!!!!
I hope everyone is having a wonderful evening!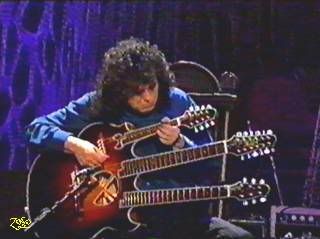 Jimmy Page playing triple neck guitar
1994 JP/RP No Quarter
image from the phenomenal
Led Zeppelin Photo Album
Happy Season of Light!!!!
Posted by etherealfire ::
10:22 PM
::
0 Comments:


---------------oOo---------------
Joyous Noel!!!
The next couple of days are going to be really busy so I don't know when my next post will be. So just in case it ends up being after the holidays, I want to wish all you beautiful people out there in Cyberland a most joyous, most peaceful and beautiful Season of Light!!!
Here's a couple of cybercards for everyone! If you would like to post or use either of the images, please feel free to do so and accept them as my gift to you this holiday season. Please save the images to your desktop and load them up into your own image host, though, 'K?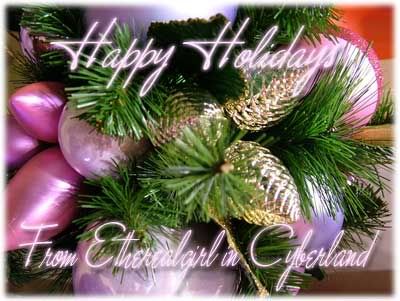 awesome photo by
Anthony Otte
found at
stock.xchng
this is
his gallery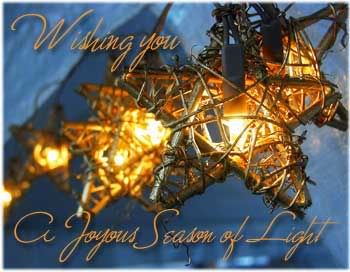 awesome photo by
Carl Dwyer
found at
stock.xchng
this is
his gallery
A great big THANK YOU to these awesome and talented photographers and to the
wonderful awesome
stock xchng
for sharing these wonderful photos with others to use!
Happy Holidays to all and may God/dess Bless Us ~ Every ONE!!!
Posted by etherealfire ::
1:13 AM
::
0 Comments:


---------------oOo---------------
Wednesday, December 22, 2004
a charlie brown christmas
With Christmas only a few days away, I find that I'm just not in the mood for any heavy stuff right now. I just wanna have mindless blog-linking fun. Thus, yet another quiz!
Your Christmas is Most Like: A Charlie Brown Christmas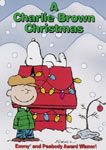 Each year, you really get into the spirit of Christmas.
Which is much more important to you than nifty presents.

Posted by etherealfire ::
7:13 AM
::
0 Comments:


---------------oOo---------------
solstice enchantment
Found a beautiful
Solstice poem
at
bird on the moon.
, a favourite blog read.
It's just so visually beautiful; especially loved this snippet!
"Let the ashes reconcile those broken histories
That keep you from feeling as holy as you are.
Let the beats that boom the sky
Be your guide as all the rules are scorched in the thrust of time."
It just really captures the rebirth theme so eloquently! Go read it for yourself and check out the other awesome entries.
Posted by etherealfire ::
2:29 AM
::
0 Comments:


---------------oOo---------------
Tuesday, December 21, 2004
"the right hand of vengeance"
yeah! can't help it; I really love this quote:
"Who am I? I am Susan Ivanova. Commander. Daughter of Andrei and Sophie Ivanov. I am the right hand of vengeance, and the boot that is going to kick your sorry ass all the way back to Earth, sweetheart! I am death incarnate, and the last living thing that you are ever going to see. God sent me."
Susan Ivanova - from Babylon 5
Who's Your Inner Bitch?
brought to you by
Quizilla
Posted by etherealfire ::
7:00 AM
::
0 Comments:


---------------oOo---------------
awakening to the feminine divine
Please go read
this awesomely beautiful post
, from Michael Hawkins' always tasty blog
Spontaneous Arising
!!!!
It's enlightened minds like this that give me hope for the future of our planet and every living thing that she sustains.
Posted by etherealfire ::
3:09 AM
::
0 Comments:


---------------oOo---------------
getting lots of airplay
lately, at least locally; wonder why? Heh...
Actually I think it was because they were part of the
KROQ
Almost Acoustic Christmas line up this year, along with several other bands, including another favourite of mine,
Velvet Revolver
. Yes, as a matter of fact I am ancient... but great rock'n'roll is ageless and eternal and transcends everything, including generation gaps.
And it's also up for a
Grammy
as well, (competing against Velvet Revolver's Slither) for best hard rock performance.
Anyway, I just wanted to retire this recent song-in-my-head edition from the sidebar and move it to this post for posterity.
Incubus'
Megalomaniac:
You're no Jesus
You're no Elvis
You're no answer

Hey megalomaniac
You're no Jesus
Yeah, you're no f**king Elvis
Special, as you know yourself
Just step down, STEP DOWN

Posted by etherealfire ::
1:56 AM
::
0 Comments:


---------------oOo---------------
Monday, December 20, 2004
air america phoenix
This
is the sound of people who want to supress any political talk radio that does not share their point of view.
With the addition of
KXXT 1010 AM
, Air America Radio is now 40 stations strong (plus two national satellite radio stations). The little progressive talk radio format that could!
And so long as freedom of speech is still a reality in this country, we will not be denied!
Posted by etherealfire ::
1:32 AM
::
0 Comments:


---------------oOo---------------
Sunday, December 19, 2004
Tom Hanks, Today's George Bailey?
That totally would work for me! I love the original
It's A Wonderful Life
~ in fact, we will probably watch that one tonight as we faithfully do every holiday season. Jimmy Stewart is the perfect George Bailey and I will never tire of seeing him in that role.
But if a new version were to be done, I think Tom Hanks is probably the only actor I could truly see in that role; and I think he would do an awesome job.
here
is where the article can be found and the ideas of actors for the other roles are intriguing... in fact I agree with most all of them!
The ideal dream team (for me anyway) would be a Spielberg directed/produced remake with Hanks as Bailey, Zellwegger as Mary, Depp in the role of Clarence... but I was thinking maybe Gene Hackman would be an intriguing Mr. Potter. Alan Rickman really is a great idea, too, though....
Posted by etherealfire ::
5:07 PM
::
0 Comments:


---------------oOo---------------
I just can't believe this....
I found
this editorial
via a favourite blog read,
Dogma
.
I share the columnist (Nick Coleman's) disgust and disbelief at some of the utterly contemptible letters he received from so-called
Christians
responding to his previous column regarding the homeless.
This paragraph sums it up nicely:
"I guess the point these compassionate Christians are trying to make is that Jesus wouldn't give the homeless a second glance if he came back. And you know what? They might be right. Jesus might walk right past the homeless, the poor and the sick, and march straight into our churches.

Because he'd have a lot of tables to overturn." ~~~ NC
Somebody remind me again, what
exactly
is the
reason
for the season???
Posted by etherealfire ::
6:50 AM
::
0 Comments:


---------------oOo---------------
Friday, December 17, 2004
all i want for christmas....
is suitcase full of books, pens and journals, a magickal way to whisk my family pets there with me safely and with out hassle for an extended amount of time and....
this
!!!!
Errrr, so I thought till I read about the
H Bomb Testing
.
:-(
Still, one wildly beautiful image is worth a torrent of kind of depressing words: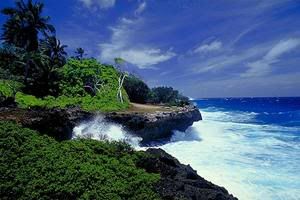 lovely Christmas Island Image found at
Waterworld Fotos
Posted by etherealfire ::
7:54 PM
::
0 Comments:


---------------oOo---------------
Thursday, December 16, 2004
some online winter fun!
I've posted these linkies to
my journal
already but I also wanted to post them here as well:
Ben and Jerry's Virtual Snowman
Crayola Snowman Builder
Make It, Skate It Fashions Dress Up dolls page
Polar Express Train Adventure
!
Shakeable Virtual Snowglobe
!
Lots of fun stuff for all of us kids at heart. Enjoy!!!!
Posted by etherealfire ::
5:57 AM
::
0 Comments:


---------------oOo---------------
it's been a lonnnnnnng lonely time....
since I posted any Jimmy Page related linkies, so here's an obligatory rabid fangirl linkie ... I know my daughter
Mina
covets
this
greatly though I think it is way out of her, my or Santa's price range this year. Still, its nice to dream... um, I'm talking about the guitar... that the guitar god who made it famous is also coveted (its a multi-generational obsession but I won't go there - lololol) just goes without saying....
aw darn, it's just too pretty
not
to post such a thing of beauty here!
And even better, here's the man himself in his heyday with the original guitar: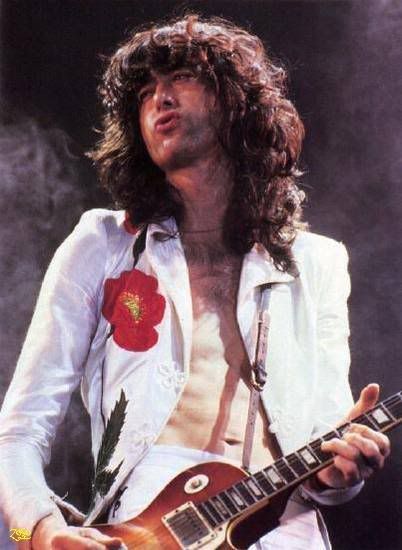 Jimmy Page with his most often used Les Paul mid 1970s
courtesy of the
Led Zep Photo Album Online
(an exhaustive collection of photos can be found there!)
Posted by etherealfire ::
4:13 AM
::
0 Comments:


---------------oOo---------------
Monday, December 13, 2004
the christian right credibility gap
A great essay,
Faith & God: No Longer a Christian
by Karen Cobb and found at
The BlurBelt
pretty much expresses the frustration many of us have with what can only be seen as blatant hypocrisy as displayed by the leadership of the Christian Right.
Tinfoil hat-type assertions
aside, this paragraph really sums up my feelings about the disturbing collective attitudes of the group in question:
"This is a stark contrast to the call of the religious christian right, who vote for war and weapons, and suggest towns and villages be leveled to bring freedom and peace to the people. They proudly boast this country's superiority, suggesting God has blessed our nation. Today, as I listened to a popular christian news network, I was reminded that in the last days, even God's elect will be deceived, (II Timothy 3:13). When the religious media moguls preaching prosperity spout their rhetoric, I am reminded of the difficulty Jesus described of a rich man's ability to enter the kingdom of God. (Matthew 19: 24) (http://www.4religious-right.info/rr_economics.htm) Some who believe they are fighting evil will cry to the Lord, and he will say "I never knew you." (Matthew 22). They will have a form or godliness but will deny the power (II Timothy 3:5) to move mountains through prayer. (Matthew 17:20). Jesus explained that he has not given us a spirit of fear, but a spirit of power, love, and a sound mind. (II Timothy 1:17) I wonder if the innocent moms and dads, brothers and sisters, and aunts and uncles, and grandmas and grandpas who were the victims of US military weapons (the never reported collateral damages we are protected from in the "liberal" nightly news) felt the love of Jesus with the shock and awe. I wonder if the surviving family members now understand His radical love and that they no longer have any need for weapons or defense." ~~~KC
Posted by etherealfire ::
8:49 PM
::
0 Comments:


---------------oOo---------------
joy is the real reason for the season!
I also posted this to my journal but I wanted to share this linkie and
mirror post
the entry that I wrote there as well:
This is just a quick one, to post a link to a story that I found and really love because it really reflects my own philosophy about this beautiful and miraculous season! Although I consider myself to be an eclectic, solitary Pagan, I have an absolute respect for the symbols and the wisdom to be found in all the great religious teachings including the one I was raised in. While it has never really been an issue for me, I do know that everyone is different and unique in their feelings on the matter and the way they choose to practice their beliefs and the way that they handle this time of year.

But I just love the message and the spirit of joy behind Visions of Sugarplums by Margaret Morrison and so I really wanted to share the linkie here! And may this Season of Light fill every heart with joy and with hope!
I found the wonderful story at
The Crystal Forest
!
Posted by etherealfire ::
5:50 AM
::
0 Comments:


---------------oOo---------------
this is why I love Michael Moore
It's Time to Stop Being Hit...A letter from Michael Moore
.
"We have a mandate to be as radical and liberal and steadfast as we need to be. The progressive beliefs and social justice we stand for, our core, must not be altered. We are 57 million strong. We are building from the bottom up. We are meeting, on the net, in church basements, at work, in small groups, and right now, we are crying, because we are trying to break free and we don't know how." ~~~MM
As always, I couldn't have articulated this better myself and it is just exactly what I feel about it. While I have respectfully read what some of our finest progressive minds have to say on this subject and I know that some feel that the Michael Moore's and the more so-called
radical
members of the party are perhaps part of the problem, I respectfully disagree with that idea.
We are a party of diversity and I believe, that at our best, we are a party of strong principles and protectors of the true vision of the American ideals our constitutional framers set out to manifest.
I say thank the merciful heavens above us for the courageous Michael Moore's of the party who are willing to stick their necks out and fight back against the long-term bullying that our party has had to bear from the GOP for more than two decades.
We have nothing to be ashamed of and everything to lose if we back down now.
Posted by etherealfire ::
5:36 AM
::
0 Comments:


---------------oOo---------------
Saturday, December 11, 2004
Bill Moyers to retire
a great loss to credible journalism; but he is planning to go out with a mission:
"I'm going out telling the story that I think is the biggest story of our time: how the right-wing media has become a partisan propaganda arm of the Republican National Committee," says Moyers. "We have an ideological press that's interested in the election of Republicans, and a mainstream press that's interested in the bottom line. Therefore, we don't have a vigilant, independent press whose interest is the American people."
The article can be found
here
. Its a sad irony that some of the very best and most credible journalists are retirement age, already retired, or gone from this earth ~ and no doubt rolling in there collective graves, in horror and disbelief at the lamentable state of today's press.
Posted by etherealfire ::
10:24 PM
::
0 Comments:


---------------oOo---------------
track santa on christmas eve!
Only 14 days till Christmas and NORAD is set up to track Santa's journey. Check it out
here
!
Posted by etherealfire ::
10:24 PM
::
0 Comments:


---------------oOo---------------
a glass rose soul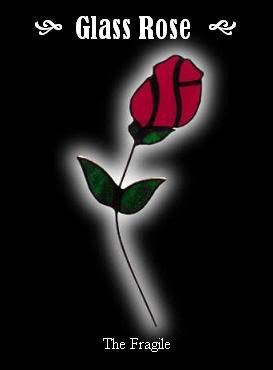 Your soul is bound to the
Glass Rose
: The
Fragile.
"My heart lies somewhere between perfection
and dust. And while my soul is a sight to
behold, I shatter at the blink of an
eye."
The Glass Rose is associated with perfection,
beauty, and frailty. It is governed by the
goddess Aphrodite and its sign is the Looking
Glass, or Tenuous Love.
As a Glass Rose, you have a beautiful soul and
naturally attract people to you. Love comes
naturally to you, but it hardly ever lasts.
Though you embody the perfect form of love,
your own faults are your own undoing.
What Rose Is Your Soul Bound To?
brought to you by
Quizilla
Found at the bonny Bonni's blog,
So Anyway...
Posted by etherealfire ::
1:52 AM
::
0 Comments:


---------------oOo---------------
ugly americans
What do you do when you've already made a great headway in actively alienating the rest of the world? If you are these pukey pundits, apparently you start in on your long-time ally and neighbor to the North,
Canada
.
Link found via
Sivacracy.net
.
Posted by etherealfire ::
1:36 AM
::
0 Comments:


---------------oOo---------------
Friday, December 10, 2004
imagine: October 9, 1940~December 8, 1980
I can't believe I missed it this year. :-( My hubby's birthday is December 7th. I will never forget the night of December 8, 1980, heading out in the car with my hubby (back then my boyfriend) to the local record store so he could spend his birthday gift certificate on music... and hearing the announcement on the radio,
"John Lennon, voice of a generation, dead at 40."
I remember sitting there in desolation, both of us crying the tears of disbelief, bitterness and grief. It was one of those first moments of realization that life really isn't fair and often is completely inexplicable.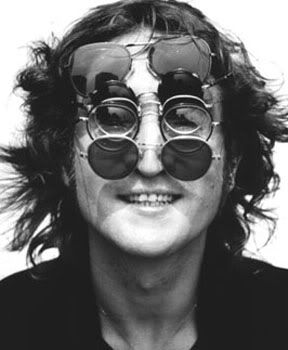 John, the way I wanna remember him, courtesy
imagine: an unnofficial tribute to John Lennon
Some other good John-related linkies:
John Lennon Museum
Instant Karma
Bagism
The Legend of John Lennon
Funny how the simple plea in a 60's era Christmas Carol is as timely today as it was then:
"War is over.... if you want it" ~~~ John and Yoko Ono Lennon
Posted by etherealfire ::
5:26 PM
::
0 Comments:


---------------oOo---------------
i lurrrrrrve Colin Firth!!!
but I was kinda hoping for Pride and Prejudice's oh so correct and moody looking Mr. Darcy... coz he was especially sexxxxay in that one imho... ah well: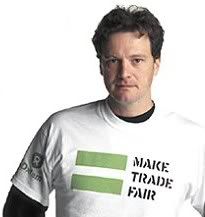 You belong with earth loving Colin. You will be so
happy together..You can travel the world
hugging trees as you go. A romantic walk on the
beach leads to picking up trash. Some may doubt
why you are with such a goody two shoes..but it
is simple because you are one too. Now go..the
earth needs you.
Which Colin Firth is your daddy?
brought to you by
Quizilla
found the quiz, courtesty the lovely
Ancarett's Abode
!
Posted by etherealfire ::
5:26 PM
::
0 Comments:


---------------oOo---------------
finished quite awhile ago
but I neglected to post that till now...
The great book
lil sis
lent to me:

"Oh, it was a sad world, and it seemed to only get sadder. As I pushed on through central California I kept thinking about all the lost ones of the world, all the ghosts, and my little baby soul was dark and cold as I rode down what I'd truly come to feel was The Loneliest Road in America." ~NEP
It was a really great read! Thanks Suz! One really cool thing is that Neil Peart is now a fan of a book that I've loved ever since I picked it up (in the same way he did actually, though about a decade earlier than he did!) at a Utah national park book store: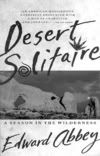 Edward Abbey
was a real character and some have called him a
Conservation Anarchist
but two things have endeared him to many, including myself: He loved and respected the wild and pristine beauty of the Western United States with a ferocity unmatched by most and he had a simple yet eloquent way of communicating that in his writings.
Desert Solitaire: A Season in the Wilderness
is Edward Abbey at his finest and a gem of a book! Neil Peart's book,
Ghostrider
echoes some of that solitary eloquence and was another really enjoyable read!
A favourite Desert Solitaire excerpt:
"In the mixture of starlight and cloud-reflected sunlight in which the desert world is now illuminated, each single object stnds forth in preternatural though transient brilliance, a final assertion of existence before the coming of night; each rock and shrub and tree, each flower, each stem of grass, diverse and separate, vividely isolate, yet joined each to every other in a unity which generously includes me and my solitude as well." ~~~EA
Beautiful meditations and thoughts on our most precious and rapidly diminishing wild Western landscape....
Posted by etherealfire ::
4:20 PM
::
0 Comments:


---------------oOo---------------
we finally got it!!!

Vertigo
:
"Your eyes are wide
And though your soul
it can't be bought
your mind can wander"
YAY! It's a two cd/dvd? thingie.... some really interesting interviews with the band and a bit of a progression of the creation of the song
Vertigo
! A real must have for U2 fans and rockers everywhere!
Posted by etherealfire ::
3:57 PM
::
0 Comments:


---------------oOo---------------
from Soldiers for the Truth.org
Uncle Sam Wants Your Kids Now
by David H. Hackworth.
I'm livid and I'm sick over this... but I've got some news for our
esteemed
administration. I did not vote for this President,
either time
. I did not vote for this neo-con ideology. I questioned this President's decision to invade Afghanistan, and when he did, he didn't even allow our troops to finish the job and capture public enemy number one, (who has EXTENSIVE past ties to our President and his family BTW - someone please tell me how this nightmare is possible???) Osama Bin Laden.
I did NOT support this Administration's decision to invade Iraq (instead of letting the weapons inspectors do their job); I did not believe the lame explanation and supposed (and since proven to be completely FALSE) information that
supported
their decision, in order to remove an admitted madman (who ALSO has EXTENSIVE PAST TIES to this President's family), because the job didn't get done correctly the first time.
I did not support this administration's decision to willfully destroy the infrastructure of Iraq, kill thousands of innocent Iraqis and thousands of our brave soldiers, sending them ill-equipped and without a reasonable decent plan for success, all the while creating potential terrorists due to this administrations idiotic ideology.
I did not support the ongoing onslaught and willful erosion of our civil rights in the name of
Homeland Security
.
And I WILL NOT SACRIFICE MY 18 YEAR OLD DAUGHTER TO THIS COMPLETELY IMMORAL AND UNETHICAL WAR!!! I don't want our soldiers there now. I don't want ANYONE ELSE'S SONS AND DAUGHTERS TO BE SACRIFICED EITHER. I support our troops and I WANT OUR TROOPS TO COME HOME!
But if ANYONE is going to have to continue with this ugly charade, I think maybe any eligible, gun-owning, trash-talking, of age Bush/Cheney Supporter, believer in the so-called
moral justification
of this war, darn well better be the ones to walk their talk, and ship out. Because MY DAUGHTER is not going to be cannon fodder when she can't bear to even eat meat, when she is a believer in absolute non-violent actions.
Truthfully, whether a GWB supporter or not, I don't want even ONE MORE of our precious youths to be sacrificed for this folly. But I'm just terrified that we are all now between a rock and a hard place and there is no turning back, thanks to the decisions this Administration has made. I feel helpless and I feel utterly outraged.
And I just can't understand how a supposed majority of our country could have really wanted to endorse this madness....
Posted by etherealfire ::
1:42 PM
::
0 Comments:


---------------oOo---------------
Thursday, December 09, 2004
Light in Darkness, Waiting for Light essay
from Waverly Fitzgerald, can be found
here
at her wonderful, fun and informative
School of the Seasons website
!
"I thought about this throughout the day as I reflected on the theme of waiting. The angry woman did not get her meal faster than the patient one and she probably had a harder time digesting it. When you see only the goal as worthwhile, then waiting is a hideous state that must be endured to achieve the goal. If you can make waiting an enjoyable process, then you get two benefits. The pleasure of the goal and the pleasure of that liminal period which precedes it." ~~~WF
Posted by etherealfire ::
5:29 PM
::
0 Comments:


---------------oOo---------------
The Holiday Season: Today
brought to you by
Candlegrove.com
, a little bit about
December 9th, 2004
.
Also some
Ideas for Winter Solstice Observance
as well.
Posted by etherealfire ::
5:07 PM
::
0 Comments:


---------------oOo---------------
a little advent calendar fun!
graciously provided by
Leslie Harpold.com
can be found
here
! Enjoy!
Posted by etherealfire ::
5:07 PM
::
0 Comments:


---------------oOo---------------
Monday, December 06, 2004
I was hoping for a sugar plum faerie
but I think this is close enough. If ever there was a season for big dreamers and for beautiful dreams to be manifested, this is the one....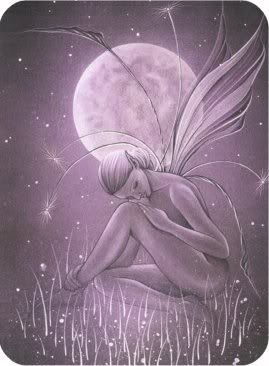 A dreamer. You are the Faerie of the Moonlight. A
calm spirit who feels alone. You sometimes find
yourself crying, but can not figure out the
reason. You have a fear of being used. People
have hurt you, and you do not know if you can
trust them. You lose yourself in writing or
reading, a very creative faerie. People want to
be your friend, but you don't know if you want
to be theirs. Sometimes you classify yourself
as an outcast, but you try to be content with
your tears. At least you'll always have your
fantasies..
What's your inner Faerie?
brought to you by
Quizilla
Posted by etherealfire ::
10:29 AM
::
0 Comments:


---------------oOo---------------
snowflake seasonal fun!!!
YaY!!! Tis the season to go to
Make-a-Flake
and starting making snowflakes of your very own with joyous abandon!!! I'm not really very good at it but they still come out looking kinda pretty and it is lots and lots of fun!
Here's my first result for this year:








note on 12-17-2004: I changed my blog look and the snowflake no longer shows up so I made a new one today and gave it a scary-bright fuschia colour. I'm totally out of it right now so I'm not making the best choices, maybe... but one thing is for sure... you can definitely see it!
Posted by etherealfire ::
9:48 AM
::
0 Comments:


---------------oOo---------------
Scalia makes chilling assertion in Orthodox Synagogue
Found the story at
Common Dreams News Center
.
"Scalia has an extraordinary way of not letting facts confound his arguments, but this time he's gone completely over the top by suggesting that a separation of church and state facilitated the Holocaust. If his comments had gotten wider coverage (they were only noted in one small AP article, and one in the Jerusalem Post), they may have brought America's largest religious communities - both Christian and Jewish - into the streets."
This seems to be a pretty ironic and naive assertion coming from a Supreme Court Justice, considering Hitler's not-infrequent use of his supposed Christian faith to support his warped ideology. Whether or not he was a
good
or a
devout
or even a truly
practicing
Christian is entirely beside the point. The point is that he used it as a useful tool to frame his ideology of hate, that ultimately led to the Holocaust. Hitler left a trail of quotes for any historian to review. One would think that a Supreme Court Justice would be familiar with them and enough of a critical thinker to grasp the simple fact that a great danger of abuse and misuse of any religious belief (or stated belief, whether actual or not) can easily be exploited as a tyrannical political tool when a separation of church and state is willfully eroded.
To find some of Hitler's use of Christianity in his speeches, check out
this site
for starters.
Posted by etherealfire ::
9:06 AM
::
0 Comments:


---------------oOo---------------
Sunday, December 05, 2004
if you are like me....
then the idea of an
Organized Christmas
is probably more beautiful dream than likely probability. Still it
is
something to aspire to and something that gives me hope!
Site found via
lexxicon.net
, a great journal read.
Posted by etherealfire ::
4:49 PM
::
0 Comments:


---------------oOo---------------
Wednesday, December 01, 2004
moon maiden
You Are From the Moon


You can vibe with the steady rhythms of the Moon.
You're in touch with your emotions and intuition.
You possess a great, unmatched imagination - and an infinite memory.
Ultra-sensitive, you feel at home anywhere (or with anyone).
A total healer, you light the way in the dark for many.

Posted by etherealfire ::
10:07 AM
::
0 Comments:


---------------oOo---------------