An etherealgirl's Adventures in Cyberland
Monday, January 31, 2005
grandma's red velvet cake
Maybe its because Valentine's Day is coming up but I've been having a massive craving for Red Velvet Cake with Cream Cheese frosting. My Grandma Vera was an amazing cook and her recipe book (the one with handwritten recipes that was coveted by every female in her family) was photocopied several years ago and distributed to all the interested parties. I'm not sure who ended up with the original book now that I think about it. But I've got a really fat (3 inch) 3-ring binder filled with her treasured recipes.
The way I remembered that cake was with cream cheese icing. But when I opened the book and reviewed the recipe, the icing was made differently. I know it was a delicious cake and I don't know where I had it with cream cheese frosting but that is the one I'm craving. But... no alternate frosting listed in the book.
Here's her recipe though. And I know it was an excellent (and very fattening of course) cake, typed up exactly the way she has written it:
Red Velvet Cake

1/2 c. Crisco
1 1/2 c. sugar

Cream these two ingredients together and add:

2 eggs
1 oz. bottle red food colouring
1 1/2 t. cocoa, sifted together with:

1 c. buttermilk. Mix well.

Then add:

1 T. vinegar mixed with
1 t. baking soda

Fold vinegar and soda into batter. Don't beat.

Pour into 2 greased and floured pans.
Bake in 350 degree oven about 40 minutes.

Icing:

1 c. milk
1/4 c. flour
1/4 t. salt

Cook these 3 ingredients until thick. Cool.

While the above ingredients are cooling, Beat:

1/2 c. sugar
1/2 c. Crisco at very high speed until fluffy.

Add the cooled mixture and 1 t. vanilla to the other 2 ingredients until fluffy.
Spread on cake.

Chopped walnuts or coconut may be added.
I have had no luck finding a cream cheese frosting in her book though so I went surfing around the net, and found
this recipe
from the
Dinner Co-op
:
Cream Cheese Frosting
1 8 oz. pkg. cream cheese, softened
1/2 cup butter, melted
1 teaspoon vanilla
3 cups powdered sugar
1 tablespoon milk
Combine all ingredients, mix until smooth.
provided by
Jody Prival
,
Dinner Co-op
And when all else fails, bakeries like
The Cake Shop Pensacola
have red velvet cake instant gratification all ready and waiting...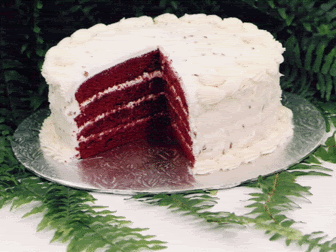 Red Velvet Cake image courtesy of
The Cake Shop Pensacola
Posted by etherealfire ::
2:29 PM
::
0 Comments:


---------------oOo---------------