An etherealgirl's Adventures in Cyberland
Tuesday, April 26, 2005
being julia
We finally saw
this
last week and
Annette Bening
really was wonderful in this movie! Her
Julia
is a complicated, emotional, roller-coaster ride into the hazardous occupation of
becoming a woman of certain age
.
I really loved the feel of the whole thing; 1938 London ~ it was a visually lovely experience watching this one. I found
Jeremy Irons
character surprisingly sympathetic, too, and the end was really uplifting in a wistful sort of way. And
Michael Gambon's
ghostly mentor/devil's advocate was a fun character. I shamelessly and unapologetically love movies like this! The only downer for me personally; I just couldn't get into the younger guy fixation she had. I don't know if it was the character or the actor who portrayed him (Shaun Evans whom I'm sure is a fine actor but I just couldn't connect with him). He just didn't make me relate to why she would want him, but maybe that's just me... in any case, it was a riveting performance by Bening. So glad I finally got to see it!
My favourite scene in the movie was early on, when she is greeted by an
old acquaintance
who has just been cattily and nastily gossiping about her and implying that she has tried to make people think that she was more than just a Doctor's daughter from Jersey (heh, that would be the
Channel Island
rather than the
state
) and then coming over dripping with sugary insincerity and trying to embarrass her in her introduction to her companion. The gulf between that time period and possibly, a class system that still is a large social factor (not sure if that is true though since I've never been there; and I'm really curious to know if it is) and the way things are in the US, made this a really startling moment.
I mean here, being an MD is a very high status sort of thing - well, of sorts, in our American replacement for a class system, at least; doctors and lawyers and judges and professional people are the highly respected ones in our society... though after the display that charlaton politicians and mere reporters made towards attacking legitimate doctors after the Terri Schiavo case I'm beginning to wonder how much respect they will continue to hold, being, by and large, logical, scientific and unafraid to speak the unvarnished, non-political truth... you know, all that reality-based stuff that is apparently becoming an endangered species in this great nation of ours... ah, but I bitterly digress...
Anyway, Julia gives the nasty little twit her commeuppance in a most satisfying no-holds-barred kind of way! For the few people that may not have seen it and are planning to, I won't spoil it, but it was the Julia-moment that utterly won my heart and made me a willing capitvated and devoted audience to her larger-than-life, oh so
dramatic role
she makes of her life.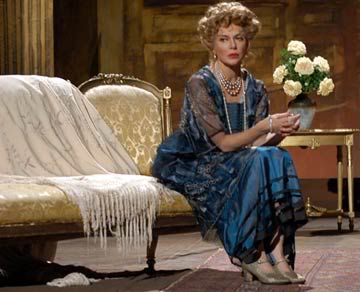 Annette Bening, Being Julia ~ the best role Julia ever had: her life!
image courtesy of
Yahoo Movies Production Photos
Posted by etherealfire ::
10:31 PM
::
0 Comments:


---------------oOo---------------