An etherealgirl's Adventures in Cyberland
Friday, September 30, 2005
welcome to my moment of zen
Ok, so here's the proof that I am a dork. You can expect to see more of this, every opportunity that I get. I'm seriously thinking about trying to find a JP photo to post daily and reference it as, der,
The Daily Page
, er, how about
A Page a Day
...
Um, ok, well this is like the quiz obsession. Happiness for me is the glimpse of a Certain Sexagenarian Guitar God reaffirming that some beautiful things are still alright in my world. So forgive my self-indulgence: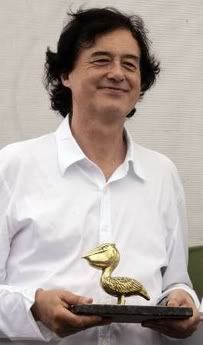 Another Rio image from September 21st courtesy of
Yahoo! News
and via
this cool little site
.
They've also linked to
Ross Halfin's latest photo session with Jp in New York on the 25th
, now on
page 6 of the JP photo archive
housed there. Have I mentioned lately that I reallly lurve Ross Halfin? Check out the funny RP related story on the September 29th entry, BTW. And for those who don't know who Noddy "fuckin" Holder is, and really wanna know, google it and be enlightened. I've got the whole scene in my head and I just cannot stop laughing.... egos shattered everywhere, but my heroes clearly have a well-placed ability to laugh at themselves. :-)
And for the aural equivalent of my joy, please imagine the sounds of
White Summer/Black Mountainside
hanging in the air.
Encapsulated into those sweet sensations, it is easy for me to find my center and to remember that, after all, life is very, very good....
Just finished reading through my
latest Mojo
, though, and it's a bittersweet one, commemorating the life and death of John Bonham (September 25, 1980) that brings me crashing back down to earth again; life is bitter, life is sweet. Just one of the many reasons that I have come to completely dread September, a month that long ago was one of my favourites, unmatched in crisp, colourful beauty and poised between the bounty of luxuriously lazy summer days and the invigorating breath of fresh air blank-pages and endless possibilities of autumn.
I dread September these days just about as much as I dread listening to the latest news and remembering that this isn't some nightmare we're collectively experiencing; no, this is supposed to be our collective reality.
Well, I OBJECT, damn it. If I've gotta live through this, then I'm gonna take a few minutes every day to lose myself in all the beautiful people and places and things that keep me sane and recover my joy. One listen to
Over the Hills and Far Away
can reduce the world and all its problems to a momentary trifle; nothing can touch the momentary bliss that washes over me at the sound of the beautiful acoustic guitar intro and lifts me into a place of perfection that cannot be marred by the sorrows and the harsh ugly realities of a world gone mad. Nothing can touch that place, if only for a moment. I'd be crazy not to give into moments like those as often as I can.
And so in my heart The Song Remains the Same... ever and always... amen....
Posted by etherealfire ::
10:43 AM
::
3 Comments:


---------------oOo---------------