An etherealgirl's Adventures in Cyberland
Monday, February 21, 2005
gonzo gone
Author Hunter S. Thompson Kills Himself
.
A bit of the AP News Story by Catherine Tsai:
"Hunter S. Thompson, the acerbic counterculture writer who popularized a new form of fictional journalism in books like "Fear and Loathing in Las Vegas," fatally shot himself Sunday night at his Aspen-area home, his son said. He was 67."~~~CT
He was always outrageous but always bitingly funny and just about always right on the money, even if it was so often a case of in-your-face honesty that many found far too hard to bear. It seems as though something must have become more unbearable than even he could face; in times like these, that is an especially tragic loss to those who need examples of the few who are courageous enough to speak out no matter the cost.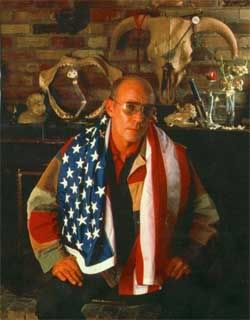 famous Songs of the Doomed photo
found
here
.
Also go check out the amazing fan-run HST resource
The Great Thompson Hunt
Posted by etherealfire ::
2:43 AM
::
0 Comments:


---------------oOo---------------