An etherealgirl's Adventures in Cyberland
Monday, February 21, 2005
malcolm x assassinated 40 years ago today
Just heard this on AirAmericaRadio's Morning Sedition with Mark Riley and Marc Maron.
Stories
here
and
here
.
Democracy Now has a fascinating piece called
The Undiscovered Malcolm X: Stunning New Info on the Assassination, His Plans to Unite the Civil Rights and Black Nationalist Movements & the 3 'Missing' Chapters from His Autobiography
.
A couple of really great Malcolm X resources:
Brother Malcolm
Official Malcolm X site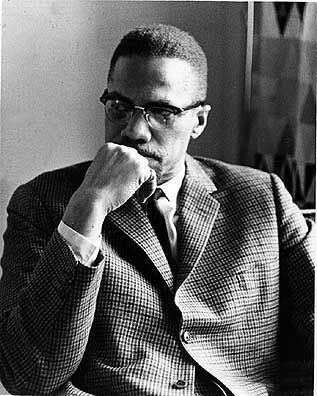 "It is a time for martyrs now, and if I am to be one, it will be for the cause of brotherhood. That's the only thing that can save this country.
"~~~Malcolm X, NYC, 19 February 1965
Posted by etherealfire ::
7:34 AM
::
0 Comments:


---------------oOo---------------