An etherealgirl's Adventures in Cyberland
Saturday, March 12, 2005
moonstones
One of my very favourite pieces of jewelry is a moonstone pendant I received for my birthday a couple of years ago; it is set in silver and has is offset by a garnet and amethyst, two of my other very favourite stones. There is something special about moonstones; you can actually
feel
it. Moonstones are supposed to be especially good for promoting intuition and sensitivity and a host of other good things.
Probably one of the reasons I have a strong affinity to this particular stone these days is because it seems to carry the best properties of the feminine nature.
My dear old friend, a well-used crystal handbook called
Love is in the Earth
states:
"It is a stone for hoping and wishing; it allows one to absorb that which is needed from the universal energies, not necessarily, however, furthering that which is wanted. It hels one to recognize the "ups and downs" and to gracefully acknowlege the changing cycles. It can assist one in sustaining, and understanding the destiny one has chosen. It works to bring the galactic evolved energies from other worlds to accessibility."
Even, if the metaphysical aspects of this book, sound like so much blarney to some, it is still an amazing book with an exhaustive listing of crystals, stones and minerals. I really love this book!
I had never seen a moonstone, or even knew there was such a stone, until a few years ago, but when I saw it, something about it called to me and I asked for one for my birthday. For those who have never heard of them or seen them before, here's an example of what they look like: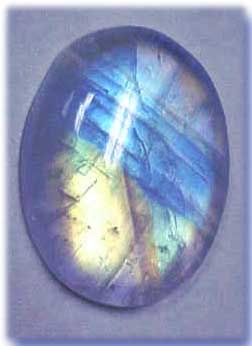 Some moonstone links:
properties of moonstones
Gem by Gem
Moonstones
Mystic Eye Crystals
moonstone info
Posted by etherealfire ::
3:16 AM
::
0 Comments:


---------------oOo---------------