An etherealgirl's Adventures in Cyberland
Sunday, April 10, 2005
another weekend movie round-up
I've been crying like a baby off and on all weekend (hormones are scary...) but mostly exacerbated by this weekend's movie fest. Even the comedies forayed into that dangerous territory that is most easily found when I'm already feeling a bit vulnerable. As to why I'm feeling vulnerable I dunno... hormones, that's all I can figure... hormones and a mute inner voice that may know something's wrong but isn't willing to share. Who knows...
Anyway, movies can sometimes be a bit of a public service when you need to have a good cry and maybe didn't know it.
The ones that did me in:
Phenomenon
yes, I really should have known better but I hadn't seen it in a long while and forgot alot of it...
Bridget Jones Diary: The Edge of Reason
FINALLY got to see this, and having read the book months ago, I thought knew what to beware of but as it turns out it isn't overly much like the book at all so what I thought was going to devastate me wasn't really included ~ but what did devastate me was Colin Firth's Mark Darcy, over and over and over... can I just say that I love Mark Darcy? I LOVE MARK DARCY!!! He just about broke my heart... so that was, a good cry, I guess!
Actually, the same could be said of Travolta's George Malley... oh well...
We watched
Bridget Jones
on Thursday and on Friday after
Real Time with Bill Maher
we watched
Phenomenon
and knew that following up that same night with
Spanglish
would probably not be such a great idea.
We saved
Spanglish
for Saturday and a fresh box of kleenex and yes, we did need it. I love Adam Sandler's John Clesky! If you are detecting a pattern here, there is one, and I guess it is the premise of most every perfect romantic comedy. The heartbreakingly good guy that tends to go through a duration of hell (often with the heroine) and then, as always, comes through in the end.
I'm a sucker for these movies, yes I am.
But after three days in a row of sappy sad romantic
comedies
we were in desperate need of hilarity and so we decided to end our weekend movie-fest with one of our good old standbys
Bowfinger
. Everybody in this movie is hysterical but I think my favourite performance is Christine Baranski's
I'm ready for my close-up Mr. deMille
intense actress. But Eddie Murphy is brilliant in his dual role.
It was just the right way to end the weekend.
Ohhhh, but that Mark Darcy. sigh. BTW, here's
Mark Darcy's Diary
or so it says. :-)
Mark Dary, Fitzwilliam Darcy... it's all good: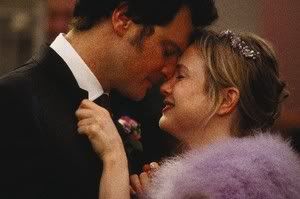 Colin Firth(Mark Darcy) and Renee Zellweger (Bridget Jones)
Photo © Universal Pictures. All Rights Reserved and found
here
.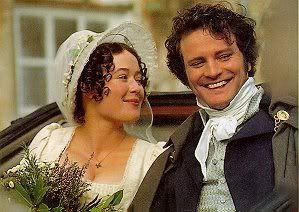 Jennifer Ehle (Elizabeth Bennett) and Colin Firth (Fitzwilliam Darcy)
image from The Making of Pride and Prejudice,
by Sue Birtwistle and Susie Conklin, Penguin Books, 1995
and found at
The Pride and Prejudice Photo Album
.
Posted by etherealfire ::
8:22 PM
::
0 Comments:


---------------oOo---------------