An etherealgirl's Adventures in Cyberland
Wednesday, May 11, 2005
jimmy gives a whole lotta love to wall street
and I wasn't
there
... :-P but thanks to
internets
I get a
little report
and a little visual commemoration of the event, so I'm not complaining... too much. :-)
Page brought the exchange to a standstill when he strummed "Whole Lotta Love" to mark his label's initial public offer from the balcony overlooking the trading floor.

The guitarist had to escape through a side-door to escape a crush of traders bearing Led Zeppelin albums for his autograph. Warner Music's IPO, however, failed to garner anywhere near as much interest.
But the
not so happy news
was that
Warner Music's market debut
had a rather tentative first day of trading, despite JP's valiant efforts at bringing an auspicious start to the day.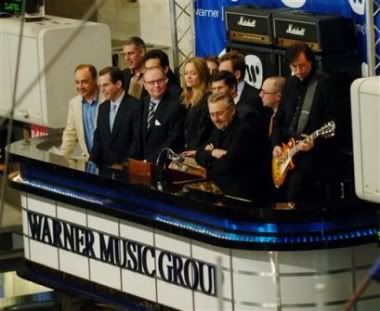 Led Zeppellin guitarist Jimmy Page, right, plays for one minute prior to the ringing of the opening bell at the New York Stock Exchange, Wednesday, May 11, 2005 in New York. Page was among the group on the bell podium celebrating the initial public offering of the Warner Music Group. Warner Music Group Corp.'s initial public offering didn't hit the high note its owners were hoping for Tuesday, pricing its initial public offering at $17 a share, below its expected range of $22 to $24. (AP Photo/Henny Ray Abrams)
Posted by etherealfire ::
9:37 PM
::
0 Comments:


---------------oOo---------------