An etherealgirl's Adventures in Cyberland
Wednesday, July 06, 2005
daydreaming of the Dordogne
Ever since I learned that Jean Auel, writer of the Earth's Children Series, had based the location of Jondalar's people in the Dordogne area and (loosely) wove a story around the famous
Cave of Lascaux
(in the 5th book,
The Shelters of Stone
) I've been insatiably curious about the caves and the
surrounding area
including
Montignac
.
The famous cave of Lascaux has been closed for general viewing since 1963 due to the deterioration of the paintings caused by "an excess of carbon dioxide in the air brought about by the [cave] visitors' breath" but the caves have been extensively studied and photographed for future generations to enjoy; there is even a replication of the cave and the art at
Grottes de Lacave
!
The entire area is apparently a rich source of fossils and other cave dwellings, as well as being the setting for many
historical sites
, and well-known for its beautiful countryside.
Someday... maybe, I will get to see that for myself. In the meantime, though, the internet provides the
closest access
I am going to be able to get, and it does the job very nicely indeed!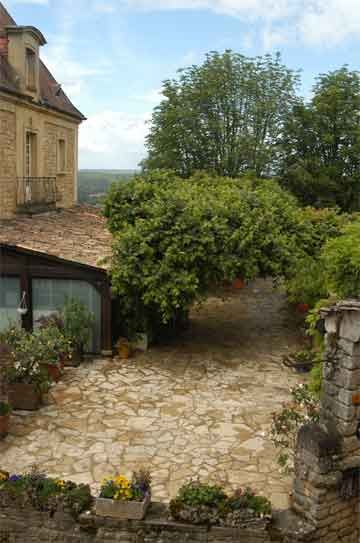 Country courtyard, Dordogne, France
photo by
blogman aka Philip Collier
found at
stock.xchng
Posted by etherealfire ::
8:12 AM
::
0 Comments:


---------------oOo---------------