An etherealgirl's Adventures in Cyberland
Wednesday, September 21, 2005
i love you, Jimmy Page!!!
...and yes, I love your beautiful, kind-hearted wifey, too...
Another hurricane is on its way, and our soldiers and Iraqi citizens keep dying every day. There is nothing but bad, sad, hopeless news everywhere we turn.
Truthfully, I completely live for beautiful moments of positive news like this. That it involves you doesn't surprise me in the least but it just makes my heart all the gladder for it. Thank you and Bless you for making my day once again, when I needed it the most!!!
Zep's Page shows whole lotta love for poor Rio kids
RIO DE JANEIRO (Reuters) - Former Led Zeppelin guitarist
Jimmy Page has been made an honorary citizen of Rio de Janeiro for his work with underprivileged kids in the Brazilian city.

Page was presented with the honor at a ceremony on Tuesday at Casa Jimmy (Jimmy's House), a facility set up in 1997 in the Rio district of Santa Teresa with funds from the veteran rocker.

"The greatest satisfaction is not the decoration. It is knowing that I am able to help someone who needs help," Page said.
There goes my hero....
Read it all
here
.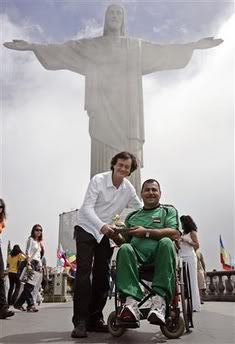 Former Led Zeppelin guitarist Jimmy Page (L) poses with Fakhir Ali Aljamaly, a member of Iraq's wheelchair team, during the peace ceremony at the Christ the Redeemer statue atop the Corcovado mountain in Rio de Janeiro September 21, 2005. Page was made an honorary citizen of Rio for his work with underprivileged children there. The Iraq team is in town to participate in the 2005 World Wheelchair Games. (Bruno Domingos/Reuters)
More reports
here
Posted by etherealfire ::
8:20 PM
::
3 Comments:


---------------oOo---------------