An etherealgirl's Adventures in Cyberland
Friday, December 10, 2004
finished quite awhile ago
but I neglected to post that till now...
The great book
lil sis
lent to me:

"Oh, it was a sad world, and it seemed to only get sadder. As I pushed on through central California I kept thinking about all the lost ones of the world, all the ghosts, and my little baby soul was dark and cold as I rode down what I'd truly come to feel was The Loneliest Road in America." ~NEP
It was a really great read! Thanks Suz! One really cool thing is that Neil Peart is now a fan of a book that I've loved ever since I picked it up (in the same way he did actually, though about a decade earlier than he did!) at a Utah national park book store: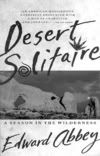 Edward Abbey
was a real character and some have called him a
Conservation Anarchist
but two things have endeared him to many, including myself: He loved and respected the wild and pristine beauty of the Western United States with a ferocity unmatched by most and he had a simple yet eloquent way of communicating that in his writings.
Desert Solitaire: A Season in the Wilderness
is Edward Abbey at his finest and a gem of a book! Neil Peart's book,
Ghostrider
echoes some of that solitary eloquence and was another really enjoyable read!
A favourite Desert Solitaire excerpt:
"In the mixture of starlight and cloud-reflected sunlight in which the desert world is now illuminated, each single object stnds forth in preternatural though transient brilliance, a final assertion of existence before the coming of night; each rock and shrub and tree, each flower, each stem of grass, diverse and separate, vividely isolate, yet joined each to every other in a unity which generously includes me and my solitude as well." ~~~EA
Beautiful meditations and thoughts on our most precious and rapidly diminishing wild Western landscape....
Posted by etherealfire ::
4:20 PM
::
0 Comments:


---------------oOo---------------