An etherealgirl's Adventures in Cyberland
Friday, January 21, 2005
the art of quilting
I wish I knew how to make quilts. Handiwork is something good for body, mind and soul. I've tried to cross stitch before, inspired by a talented friend and my sister-in-law, both are particularly talented with all the various stitching arts, from sewing, knitting, crocheting, et al. Unfortunately, I discovered that I have ten thumbs and not very much patience. But I believe that cultivating that patience is probably one of the major benefits, along with capturing that zen-like single pointed attention that has such a beautifully calming effect. So I think it might be worth it to try again sometime. But until I've mastered some reasonable competence with a small cross-stitch pattern, I think it is unlikely I will have the courage to attempt any kind of a quilting project.
Still, this doesn't prevent me from appreciating the beauty of quilting works of art and I often find myself surfing the various wonderful sites that show off some of these beautiful creations.
A really great resource that
lists
some fine quilters sites is
PBS' A Century of Quilts
. If you love beautiful art and beautiful quilts you can spend hours perusing these gorgeous sites!!!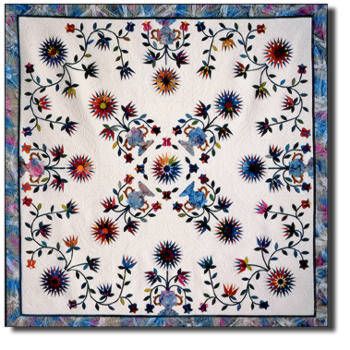 image of gorgeous quilt,
Joie de Vie
,
©2001
Candy Goff
, an incredibly talented quilter!
Posted by etherealfire ::
8:20 AM
::
0 Comments:


---------------oOo---------------