An etherealgirl's Adventures in Cyberland
Monday, January 17, 2005
how to make a labyrinth
Walking is one of my very favourite forms of meditation, because the simple act of stressfree movement in an outdoor environment is truly conducive to being in the moment, that zenlike single-minded attentiveness that sometimes eludes me when I try meditating in other forms.
So when I heard about labyrinth walking a few years back I was fascinated by the concept and wanted to try it sometime. Part of the magick of the experience would be in walking a labyrinth that had some history behind it. I have never had the opportunity to do this yet, and though I hope someday I will, but the patterns themselves are fascinating to look at. It never occurred to me that I might actually be able to
create one of my own
right on the beach, for example. Until I received a link via one of my newsgroups, to
Worldwide Circle of Labyrinths
.
Also found a link to locate a Labyrinth near me, with the
World-Wide Labyrinth Locator
.
And ~ for fun, let your fingers do the walking thru this cool little online virtual
finger meditation tool
~ just click on the image to launch it!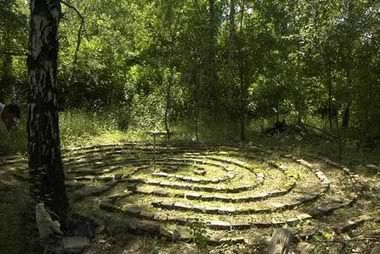 beautiful labyrinth in the woods from
this lovely site
!
Posted by etherealfire ::
9:07 PM
::
0 Comments:


---------------oOo---------------