An etherealgirl's Adventures in Cyberland
Friday, January 14, 2005
winter bird feeders
I love birds and love watching them eat from our backyard feeder. We haven't been filling the feeders much lately though because our cat removed the belled collar we got for her within no time and she likes to catch birds, something I cannot bear. The feeders also attracts rats who compete for the seed and end up being potential targets for our cat (which I also cannot bear).
As a result, we haven't added seed to our feeders for quite awhile now; since winters are typically mild to non-existent and we have alot of lush plants in our backyard, we still get alot of lovely bird traffic.
But something that hadn't occurred to me before, was to wonder about the possible problems of birds becoming dependent on bird feeders as a primary winter food source.
Audubon: Backyard -- The Winter Banquet
discusses some of the pros and cons of winter bird feeders as well as giving some tips on feeder types; great information for winter bird watchers everywhere.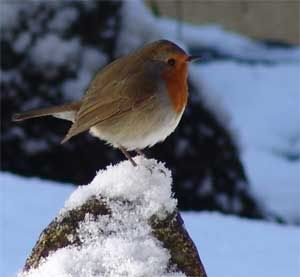 lovely image of robin in winter
photograph by dave hewitt
listed as
profile: dvehwt
from
stock.xchng
Posted by etherealfire ::
9:45 PM
::
0 Comments:


---------------oOo---------------