An etherealgirl's Adventures in Cyberland
Saturday, January 01, 2005
the terminal
We tend to see movies at home rather than at the theatre. We are making up for this a little bit this weekend due to Suzanne and Mina receiving movie card gift certificates, but I've already discovered that I waited too long to see
Bridget Jones: The Edge of Reason
, if I wanted to catch it at a theatre nearby.
However, we have finally rented some movies I've been dying to see. Yesterday the weather was kinda yucky so we scratched part of our original plans which included hitting the Borders bookstore with our christmas gift certificates and then heading out to see a movie. But by the time we finished up at Borders, we decided to have pizza and stay in with some rented flicks instead.
Movies rented:
So far I've watched
Anchorman
and
The Terminal
; I couldn't stay awake long enough to watch
Troy
, let alone ring in the New Year! Very lame, but I think I'm a little under the weather as well.
Still we are going to head out later this afternoon to see
National Treasure
.
I love the two movies I saw yesterday but I can't say enough good things about
The Terminal
!!! I love Tom Hanks anyway; I've decided that he really is my personal post-modern answer to my all-American Cinema Hero (Jimmy Stewart is my 20th Century version ~ alluded to both a couple of posts ago). But this movie really was a moving experience. If there is anyone else in the world besides me, who hasn't seen this movie yet, I totally recommend it!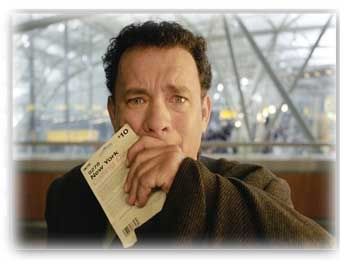 image courtesy
The Terminal Official Movie Site
Posted by etherealfire ::
3:36 PM
::
0 Comments:


---------------oOo---------------