An etherealgirl's Adventures in Cyberland
Tuesday, February 22, 2005
Free Mojtaba and Arash Day
Received
this link
from my blog bud, Sean over at
Sinister Dexterity
.
Global blogger action day called!!!!
"The month-old Committee to Protect Bloggers' is asking those with blogs to dedicate their sites on Tuesday to the 'Free Mojtaba and Arash Day'.

Arash Sigarchi and Mojtaba Saminejad are both in prison in Iran.
Please go read the rest
here
! Also please go read
this
to get more background!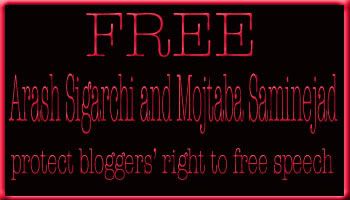 This is my ugly little protest sign, whipped up quickly (and artlessly) but my heart is in the right place; if anyone wants to put it up on their blog, feel free to save the image to your hard drive and upload it to your image server. If anyone wants to make their own protest sign, I'm sure that will be most appreciated.
I know that showing your support in any way that you can will be most appreciated! Thanks so much!!!
Posted by etherealfire ::
3:35 AM
::
0 Comments:


---------------oOo---------------