An etherealgirl's Adventures in Cyberland
Sunday, February 06, 2005
a weekend of movies
Ok, I really have to get back to work but I had to share some of the movies we have watched this weekend. It's been total self-indulgent fun!!! YAY!!!
When we went to Borders last week we discovered the bundle-of-two flicks that they are selling there... very clever indeed as I picked up about three sets of two before guilt and common sense (HUH? THAT must've been an out of body experience I was having for a change) settled in. I honestly could have grabbed up half a dozen of those bundled up sets; it was a fiendishly clever marketing idea and I sense it is going to be an enormous test of will-power to resist it everytime I go in there... but anyway, among the bundled sets we got was
The Philadelphia Story
(which I've seen a few times before and totally love) and
The Women
which I've wanted to see forever but never found it anywhere till it was bundled up in that tempting little set.
The movie has no male actors in it at all and though clearly a dated story it was an absolute hoot and total self-indulgent decadant fun to watch; I've been hearing for over a decade that an updated version of this movie was in the works (at one point Meg Ryan and Julia Roberts were two of the possible leads considered) and I really hope it finally does get made. I'd love to see what they do with it.
Lucky, lucky Katie!
heavenly image of Grant, Hepburn and Stewart found at
The awesome UK Guardian's Film Gallery
!
Joan Crawford, Rosalind Russell, Norma Shearer & Joan Fontaine
Notably missing is Paulette Goddard, Ruth Hussey, Marjorie Main and Lucile Watson; but I couldn't find one with most of them together.
image found at the very cool
Visions in Black and White
!
Then we found
All About Eve
which is one of my all-time favourite Bette Davis movies... ever (along with the soapy pair of sobfests,
Dark Victory
and
Now, Voyager
... oh I know, I KNOW but I cannot get enough of those films; I think she is just magnificent) and so we had to have that one as well. When we found Now, Voyager (bundled with
Mildred Pierce
, I think ~ a really great Joan Crawford film that we had just recently seen for the first time), I knew I was gonna have to stop and save it for another trip. If Victory and Voyager had been bundled together though, that would have been impossible to resist.
So I guess I'd better thank my lucky stars that it wasn't or I would have been in big trouble...
I love the writing, the script from All About Eve so much. Practically every line in the movie is its own sterling little moment. Probably my favourite moment is in the stalled car when Margo Channing (Bette Davis) says:
"Funny business, a woman's career, the things you drop on the way up the ladder so you can move faster. You forget you'll need them again when you get back to being a woman. It's one career all females have in common - being a woman. Sooner or later we've got to work at it no matter how many other careers we've had or wanted. And in the last analysis nothing is any good unless you can look up just before dinner or turn around in bed and there he is. Without that you're not a woman. You're something with a French provincial office or a book full of clippings but you're not a woman. Slow, curtain, the end."
It's the epitome of 50s mentality but every time I see this scene I believe the universal underlying truth within it, feel it right along with her as she delivers it with such stoic bravery while you just know she's dying a little inside... its just an absolutely gorgeous moment and imho, one of Davis' very finest.
And there's a million other moments like this, little gems from every single cast member. It's just a deliciously witty beautiful wordfest. The world should be this clever.... lol! Well, they don't quite write em like this anymore, that's for sure. And once in awhile, it is the very thing I crave.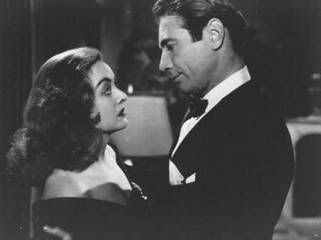 Margo (Bette Davis) and her beloved Bill (Gary Merrill)
"Bill's thirty-two. He looks thirty-two. He looked it five years ago, he'll look it twenty years from now. I hate men."~~~Margo Channing
image found at
Visions in Black and White
A little bit of fun trivia. Gary Merrill and Bette Davis fell in love during the filming of All about Eve and eventually married; they were together for 10 tumultuous years. I imagine that was a fascinating relationship. ;-)
We also watched the previously mentioned Shall We Dance,
The Stepford Wives
(which I thought was very smart and very funny, sorry world) and, at Mina's insistence,
Napoleon Dynamite
which really was a cute movie, er, in a... strange and twisted sort of way... and one I would never have seen if she hadn't recommended it.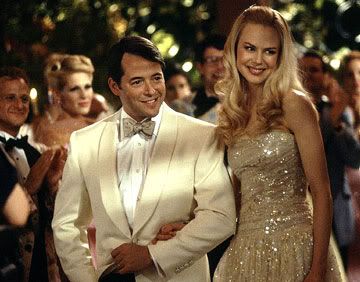 kidman & broderick's formal welcome to Stepford
image courtesy of
Yahoo movies production stills
And in keeping with a romantic theme: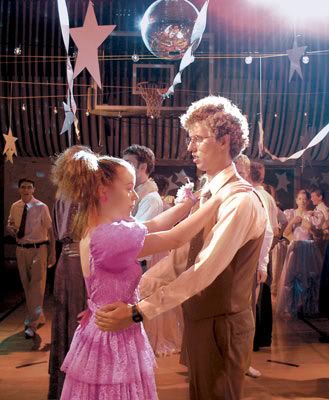 Tina Majorino and Jon Heder at the high school dance
both images courtesy of
Yahoo movies production stills
Posted by etherealfire ::
6:48 PM
::
0 Comments:


---------------oOo---------------