An etherealgirl's Adventures in Cyberland
Monday, March 21, 2005
playing dollz
I've been playing around at putting together cyberdollz from
eLouai's Candybar Dollmaker
off and on all weekend. Soooo much fun but I'm not really all that good at them. I finally finished a pair of them more or less to my liking, but I think I may still go back to the drawing board and tweak it a bit, later on. I think the one that I made for my sister came out pretty good though!

The one I made for me, I'm not so sure of though: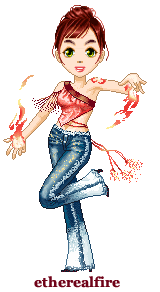 Actually I think that most people would be able to do this without much thought or effort; but maybe that's my problem.... I think about it too hard then my hand gets in the way and messes it all up... LOL!
In any case, I've become completely addicted to it! I discovered the Dollmaker via one of my blog reads, several days ago, actually, but never took the time to go back and start making them till this weekend. In the meantime, lots of the blogs I read have jumped in and created beautiful dollz of their own and I'd like to reference them here but offhand I don't remember exactly who else has them... sorry about that! But you can find the dollmaker
here
and links to all kinds of other fun stuff at
eLouai's main page
.
Another fun site is
La Maison de Candydoll
a french site that has lots of dollmakers include one that makes "teenies". So fun but very addictive!
Posted by etherealfire ::
12:58 AM
::
0 Comments:


---------------oOo---------------