An etherealgirl's Adventures in Cyberland
Friday, May 27, 2005
audioslave: l.a. near riotous performance
Apparently things a little bit out of hand between crowd and crowd control during a May 20th post-Jimmy Kimmel Live appearance free performance, but the band eventually got everyone to calm down and enjoy the performance to its fullest:
"It was great to shut down Hollywood Blvd. and play a free concert for our hometown fans. By the end of the night even several of the riot police had put down their batons and were rocking out," guitarist Tom Morello said.
Story
here
.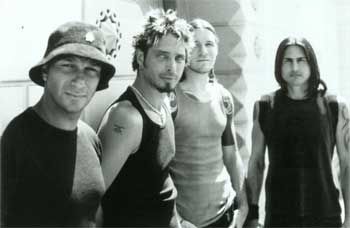 Audioslave courtesy
Concert Shots
Sorry for the relative inactivity on my blog of late; I am slowly trying to get my blog updated and trying to get stuff done at home as well. I hope I'll get it all done today or tomorrow. Thanks for the patience, beautiful people!
Posted by etherealfire ::
2:09 PM
::
0 Comments:


---------------oOo---------------