An etherealgirl's Adventures in Cyberland
Monday, May 16, 2005
bring it on home
Two causes for celebration!!!! Yesterday my Robert Plant/Strange Sensation cd,
Mighty Rearranger
arrived and this afternoon our tickets for his July 21st
concert
in
San Diego
! Major YAYness!!!
Just realizing that I never mentioned my Mother's Day gifts either: besides a gift certificate to Borders and a beautiful brand new journal, I was gifted with
Beck's
Sea Change
(I'd forgotten that we never even got it when it came out though we had good intentions),
Patty Griffin's
Impossible Dream
, and
Garbage's
Bleed Like Me
; I still need
Beck's
Guero
so I'm planning to go get that as soon as I can.
Also Suzanne just bought
Aimee Mann's
The Forgotten Arm
so the family's shared iTunes is full to the brim with new musical magnificance and I'm feeling very spoiled and very happy!
But my current favourite song on my iTunes right now is a lovely gem from the
Bring It On Home
cd (15 classic tracks chosen by Robert - lotsa good stuff on it too!) that came with my special edition Uncut Mag (May 2005) with a big fat lovely retrospective on Led Zeppelin and a cover devoted to Jimmy (also got a copy of the one with Robert on it as well that came with a
Dazed and Confused
cd of 13 guitar greats including Jimmy and Jeff Beck with the Yardbirds doing a version of
Stroll On
) ... oh, yeah, the lovely gem? Roy Harper with Jimmy Page ~
The Same Old Rock
. Gorgeous, gorgeous track!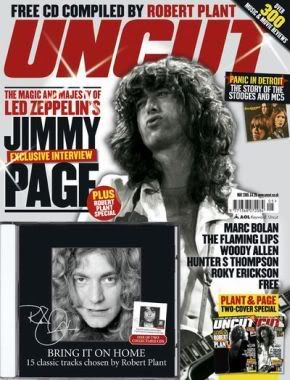 May 2005 Uncut Magazine Special Edition featuring Led Zeppelin
image found courtesy of the always awesome
Achilles Last Stand
Posted by etherealfire ::
11:33 PM
::
2 Comments:


---------------oOo---------------