An etherealgirl's Adventures in Cyberland
Tuesday, August 16, 2005
camp casey is moving up
Cindy Sheehan and company are going to be
moving a bit closer to Bush's Texas Ranch
thanks to a military veteran who supports the cause and is concerned for the Camp's safety due to a few of the recent incidents that have happened in the last few days:
The private property was offered by a military veteran who is a distant relative of a man who had fired a shotgun in frustration over her vigil, which has been a growing source of tension in the community.

Sheehan said the hundreds of white crosses put up at her current camp to honor soldiers killed in Iraq would not be moved when she relocates. The crosses were the target of a vandal on Monday night and Sheehan said a small number of people will stay at the original site to watch over them.

"A kind gentleman from down the road, closer to the Bush ranch, has offered us the use of his property," Sheehan told reporters.
The other incident involved the
vandalized Crosses at the camp site
by 46 year old Larry Northern of Waco, Texas.
Link found via
this post at Rogue Angel
.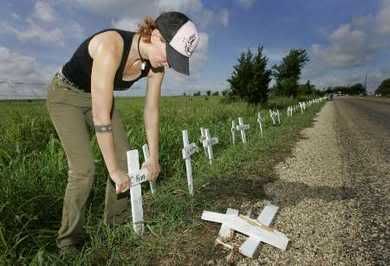 Anti-war protester Kathy Nikeef of Santa Fe, New Mexico, replaces one of the dozens of the damaged crosses at a symbolic roadside cemetery representing Americans killed in Iraq, on the road leading to the ranch of U.S. President George W. Bush in Crawford, Texas, August 16, 2005. Dozens of the symbolic crosses were knocked down by Waco resident Larry Northern, 46, driving his vehicle late August 15, who was later charged by police with criminal mischief.

Reuters/JASON REED
Posted by etherealfire ::
10:12 PM
::
0 Comments:


---------------oOo---------------