An etherealgirl's Adventures in Cyberland
Sunday, August 07, 2005
peter jennings dies at 67
Just logged on to load up a few images from our trip to Sea World and found
this heartbreaking news
.
We rarely watch t.v. and had no radio or t.v. on all day so we were all shocked to find out about this, though we were aware of his illness.
After Walter Cronkite retired, I suffered a huge void in the news world, though all the anchors were more than capable. But Peter Jennings was the one who I kept coming back to night after night, even though it meant a change in news channels.
Although, in the last decade especially, I've become disenchanted with news as a whole, and my primary source of news switched from ABC and Jennings to PBS MacNeil~Lehrer (and then just Jim Lehrer when Robert MacNeil retired), I always felt in my gut that Peter Jennings was an ethical journalist and one of the good guys.
Truth be told, this has been a completely devastating year for news anchors and I have mourned the loss of what might be considered the
old guard
in news. No matter what anyone else may think about Brokaw, Rather and Jennings, or erroneously believe to be liberal media, these three men were a dying breed: true journalists.
I mourn the loss of all three of them from the news landscape. And although the corporatization of the media managed to mute their voices in recent years, they at least had the benefit of combined skills and integrity that I'm afraid is becoming a lost art within the world of news broadcasting.
I can't help but feel a little lost and sorry for myself (and for America) tonight.
Goodbye old friend and peace and comfort to your family tonight.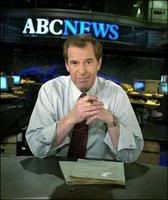 Posted by etherealfire ::
9:46 PM
::
2 Comments:


---------------oOo---------------