An etherealgirl's Adventures in Cyberland
Tuesday, October 25, 2005
america loses an extraordinary ordinary hero
I've been offline all day and had a night class tonight so I haven't had a chance to post this sooner but I couldn't let another moment go by without adding my commemoration post to the blogosphere in
memory of Rosa Parks
, a quiet, dignified, courageous woman who awakened America with one simple, righteous act.
Rosa Parks: The Woman Who Changed a Nation
:
When Rosa Parks refused to give up her seat to a white man forty years ago on December 1, 1955, she was tired and weary from a long day of work.

At least that's how the event has been retold countless times and recorded in our history books. But, there's a misconception here that does not do justice to the woman whose act of courage began turning the wheels of the civil rights movement on that fateful day.

Rosa Parks was physically tired, but no more than you or I after a long day's work. In fact, under other circumstances, she would have probably given up her seat willingly to a child or elderly person. But this time Parks was tired of the treatment she and other African Americans received every day of their lives, what with the racism, segregation, and Jim Crow laws of the time.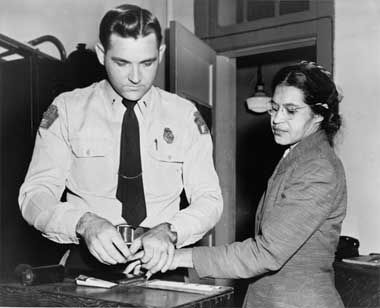 Rosa Parks fingerprinted for refusing to yield her seat to a white man
image courtesy of
Library of Congress Exhibition:Brown v. Board at 50
Posted by etherealfire ::
10:23 PM
::
3 Comments:


---------------oOo---------------