An etherealgirl's Adventures in Cyberland
Monday, November 07, 2005
a jimmy sighting and some lz news
It's always great to be able to post a Jimmy Page item. Oh Happy Day ~ today I've found two!!!
Led Zeppelin legend turns up at White Stripes show
:
Jimmy Page is spotted on the sidelines

Led Zeppelin legend Jimmy Page made a surprise appearance at the White Stripes second Hammersmith Apollo show last night (November 6) as the band continued their tour of the UK.

The famous guitarist, who Jack White is often compared with, was spotted watching the gig from the side of the stage throughout the 90 minute set.

Unfortunately hopes of a duet failed to materialise because that was as close to the stage as the founding member of Led Zeppelin got.
And as always, my hero Ross Halfin, has a little inside dish about the evening, in his
November 6th diary entry
.
YAY!!! But wait there's more!!!!
Rock group Led Zeppelin, Russian conductor share Sweden's Polar Music Prize
:
Jimmy Page, John Paul Jones, Robert Plant and John Bonham formed Led Zeppelin in 1968 and released their first album, named after the group, a year later. The band disbanded in 1980 when Bonham died, but its music remains hugely popular worldwide.
...

The Prize will be awarded May 22 by Sweden's King Carl XVI Gustaf.

Gergiev has confirmed that he will attend the ceremony, and Page, Jones and Plant were also expected to come to Stockholm to collect the award, organizers said.
Led-Zeppelin.com news
has a November 7th entry about the award as well as a
link to the announcement video
(which works with Windows Media only, for the vast majority of those who have it - and no I don't, and... don't ask why... lol).
The last time Jimmy Page made an appearance at a Polar Music Prize event was in 2004 to
present the great B.B. King his award that year
.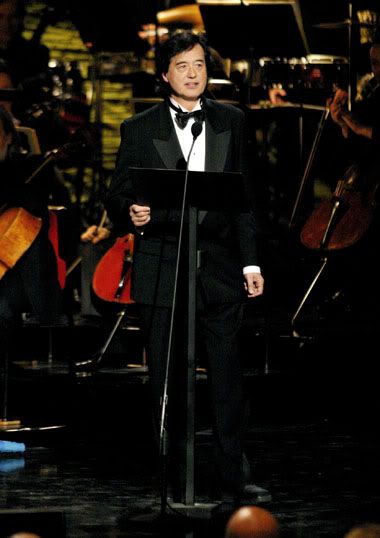 Jimmy Page
Photo: © Patrik Österberg / BULLS
TBL
has a page of JP photos of that event which can be found
here
.
Posted by etherealfire ::
12:49 PM
::
1 Comments:


---------------oOo---------------