An etherealgirl's Adventures in Cyberland
Monday, April 10, 2006
things i'd rather ramble on about instead
This summer's planned anniversary vacation to
Muir Woods
Ross Halfin's latest beautiful images of my
Guitar God
and the desktops I created with some of them: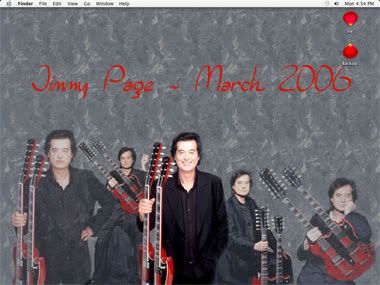 Getting myself motivated to actually post to my highly neglected
booklog
, the great stuff I've been reading since... last year... yikes, including my most recent favourites: Michael Palin's
Around the World in 80 Days
,
Pole to Pole
(both which got me through a pair of uncomfortable nights at the hospital ~
Michael
I love you and I'm forever in your debt!) and
Sahara
. I don't have
Himalaya
(the book companion) yet, and I still need
this one
as well, but I've got the most awesome dvd which started this whole serendipitous armchair travel reading marathon with my favourite
Python
.
And to wax poetically over my two latest delightful reads (I need to update my sidebar but I just kinda gave up awhile ago) Margaret Sanborn's
Yosemite
which I purchased during last year's lovely vacation there but never got around to reading till last week and David Rothenberg's very lovely
Why Birds Sing
which I just received and couldn't resist starting to read earlier today. That's a very bad habit that keeps me disorganized and overflowing with stacks of half-started books all over the place ~ but I couldn't resist...
Brag about my very talented Care2 buddy Mark's band
Giles
latest awesome album which just happens to be called (ahem!)
Dancing with Dolores
and pretending that I was the inspiration for the song (when in fact the song had been written well before I ever knew how great Giles is! but a girl can dream about her own 15 minutes of fame, can't she?)
Revel in the beauty and delight of a perfect Southern California spring.
Posted by etherealfire ::
4:51 PM
::
0 Comments:


---------------oOo---------------