An etherealgirl's Adventures in Cyberland
Wednesday, December 22, 2004
a charlie brown christmas
With Christmas only a few days away, I find that I'm just not in the mood for any heavy stuff right now. I just wanna have mindless blog-linking fun. Thus, yet another quiz!
Your Christmas is Most Like: A Charlie Brown Christmas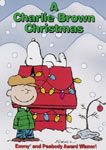 Each year, you really get into the spirit of Christmas.
Which is much more important to you than nifty presents.

Posted by etherealfire ::
7:13 AM
::
0 Comments:


---------------oOo---------------