An etherealgirl's Adventures in Cyberland
Friday, February 11, 2005
playwright arthur miller dies at 89
Story
here
.
"Arthur Miller, the Pulitzer Prize-winning playwright whose most famous fictional creation, Willy Loman in 'Death of a Salesman,' came to symbolize the American Dream gone awry, has died. He was 89."
Some great links to a man deservedly described as one of the finest playwrights of the 20th century:
PBS American Master: Arthur Miller
The Arthur Miller Society
A blurb from literary underground review
Bohemian Ink
which lists some other good linkies as well.
"I have made more friends for American culture than the State Department. Certainly I have made fewer enemies, but that isn't very difficult." ~~~~Arthur Miller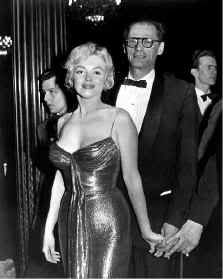 Miller and Monroe back in the day
Posted by etherealfire ::
6:52 PM
::
0 Comments:


---------------oOo---------------