An etherealgirl's Adventures in Cyberland
Wednesday, February 23, 2005
rebecca
I watched
this
Hitchcock
movie for the very first time last night; it was showing on
TCM
as part of the 31 days of Oscar series. It starred cinematic legends
Joan Fontaine
and
Laurence Olivier
and the brilliant perennial scene stealer
George Sanders
.
I thought I'd seen it before until I saw the previews and realized I was confusing it with another movie entirely, mainly because that movie also was the name of a woman. It was driving me to distraction until about mid-movie when I remembered the movie I had it confused with: 1944's
Laura
, with another stellar lineup that includes
Gene Tierney
,
Dana Andrews
and another brilliant character actor of the same witty and wonderful caliber of Sanders,
Clifton Webb
. There was also the added bonus of a young
Vincent Price
.
The two movies really weren't the same story at all but the female namesake of each movie had a mystery surrounding each of them; other than that and the memory of some really great character actors, they really weren't the same. I'm guessing (but I'm not sure) that Laura may not have been held in the same esteem as Rebecca; but as far as I'm concerned they are both really entertaining movies. Of course, give me a classic movie to watch and I'm pretty much in heaven, and I generally enjoy B movies as much as true classics... it's all good from where I lounge on my couch. :-P
Anyway, TCM has a really great lineup and I'm looking forward to clocking alot of couch time (as much as I can get away with) in the next several days. For a complete listing of the 31 days of Oscars, check it out
here
.
Hitchcock
, Fontaine & Olivier 1940
from the movie
Rebecca
image courtesy
MPTV.net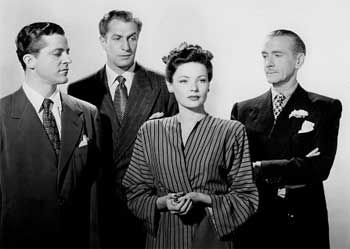 Andrews, Price, Tierney and Webb
from 1944's
Laura
image courtesy
MPTV.net
Posted by etherealfire ::
8:46 AM
::
0 Comments:


---------------oOo---------------