An etherealgirl's Adventures in Cyberland
Thursday, March 31, 2005
another lovely one for the road!
Ummmmm, YES, it seems I knew how to answer the questions in order to get the answer I wanted.... if only it were
that
easy to end up with the real thing... HA! Anyway, here's another quick and instantly gratifying (well, for me at least ~ life is good) quiz result.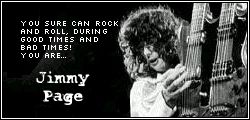 Which great guitarist are you?
Posted by etherealfire ::
1:54 PM
::
0 Comments:


---------------oOo---------------