An etherealgirl's Adventures in Cyberland
Tuesday, March 29, 2005
the weekend movie round-up
As always, I can't resist posting our latest at-home movie screenings and as always, we are probably the last people on earth to see them, but I'm just delighted when we do finally see them!
This weekend we watched
SpongeBob SquarePants ~ the Movie!
and
Finding Neverland
; the movie trailer can be found
here
.
Finding Neverland was wonderful but I cried buckets before it was all over; it was just an enchanting and moving film and now I can see why Johnny Depp was nominated again for an Oscar. I love just about everything he's ever done and I know that someday he's definitely going to win because he's an incredible actor. I still think Jamie Foxx's performance was appropriately awarded this time around though. Next time Johnny! Kate Winslet broke my heart in this movie. She's really wonderful in everything she does also but I think that this performance was incredible.
SpongeBob was sublimely, ridiculously funny and my only real regret is that we watched it before we watched Finding Neverland. I really could have used that movie as a lighthearted follow up... I don't know what we were thinking... but anyway, it was lots of movie fun last weekend. Maybe this upcoming weekend we can actually go to a theatre instead though; we still have movie gift cards with balances still on them from Christmas...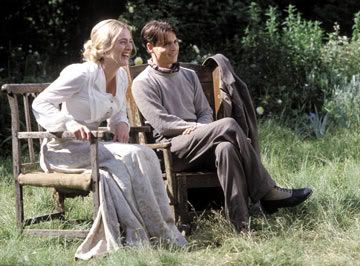 Depp and Winslet enjoying the young lads play
Image found at
Yahoo Movies
Photo © Copyright Miramax Films
Posted by etherealfire ::
2:15 PM
::
0 Comments:


---------------oOo---------------