An etherealgirl's Adventures in Cyberland
Wednesday, March 02, 2005
queen meets guitar gods
but.... er, um.... how shall I say?
DOESN'T. HAVE. A CLUE
!!!!! Oh ok, then, maybe that shouldn't be such a shocker....
But... Why, Lord, oh whyyyyyyyyyy couldn't it have been me instead????? Afer all, I
know very well
who Britain's most priceless national treasures are and fully appreciate the gifts they have given the world... :*( oh well...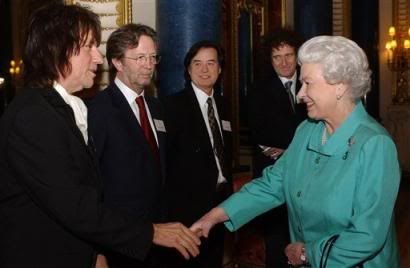 Your Majesty, may I introduce you to 4 of the finest guitarists
that have ever graced this planet???? Please????
HRH Queen Elizabeth shakes the hand of the great Jeff Beck
while Eric Clapton, Jimmy Page and Brian May look on
HRH shakes the hand of Jimmy Page, lucky lady!
Found via the lovely and talented and always in the know
Led-Zeppelin.com
absolutely
the best
fan-run Zep site on the planet!!!!
Posted by etherealfire ::
12:37 AM
::
0 Comments:


---------------oOo---------------