An etherealgirl's Adventures in Cyberland
Monday, February 28, 2005
oscar night
I missed the fun because my 11th hour homework marathon went into overtime last night. I know everyone else already knows the details, but since I didn't and had to go look it up, here's a link for the rare few like me, who didn't see it but wanted to:
The Academy Award Noms and Wins
The only nominated movie or actor I saw this year was
Jamie Foxx's
moving performance in
Ray
. I thought his performance and the movie were both amazing, so I was glad to see that he won best actor.
I'm anxious to see the other movies and performances by everyone else as well, though. Something to really look forward to in the next few months. I was torn in the Eastwood/Scorsese battle for director (even though I haven't seen either movie); for purely sentimental reasons, I suppose. I didn't see Eastwood's performance (or any of the other really fine nominees) so I was basically really rooting for Jamie Foxx but that meant that the only award for Eastwood personally would be Best Director, and since he has won that award before and Scorsese has been long overlooked I was really hoping he would get it this time.
The other award I really cared about was for Best Actress in a Leading role; although, again, I haven't seen one of the movies that these fine actresses were nominated for yet, so it was just silly sentiment on my part: I really hoped Imelda Staunton or Annette Bening would win, simply because the other 3 lovely ladies were younger and hopefully will get lots more chances. So it was based on absolutely no reason of consequence at all and I'm sure that Hilary Swank was most deserving of it.
I'm also sure that she must've remembered to thank her hubby this time around.
I shouldn't admit it but I'm a girly-girl when it comes to this kind of thing so why pretend differently; the thing I missed most is not getting to see the red carpet arrivals. But that's easily solved by going
here
.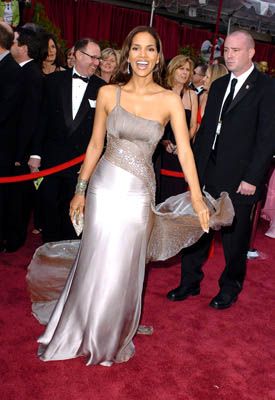 I always look forward to seeing what Halle is wearing
photo image courtesy
Yahoo movie images
Posted by etherealfire ::
1:16 PM
::
0 Comments:


---------------oOo---------------