An etherealgirl's Adventures in Cyberland
Thursday, March 31, 2005
whoops! a couple more
okay, I'm very guilty.... even more so than usual! :-P Not much blogging substance but lots of blogging fun for a minute or two... sorry about that. I'll stop now: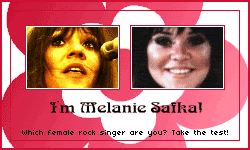 Melanie... was very cute. But... I wanted to be Joni Mitchell... but I can't play.
:-(


Take the Which Heart song are you? quiz from Laura

I always loved Heart. I wanted to be Ann Wilson when I grew up... well, actually I wanted to be a killer combination of Ann And Nancy... well actually that brings me back to wanting to be Joni Mitchell again... ah well, gotta run... er hobble...
Later Beautiful People!
Posted by etherealfire ::
2:03 PM
::
0 Comments:


---------------oOo---------------