An etherealgirl's Adventures in Cyberland
Wednesday, April 20, 2005
al & katherine's west coast tour!
I wanna go! I really really wanna go!!!! But I don't know if I will be able to get tickets quickly enough, coz they run out really really fast.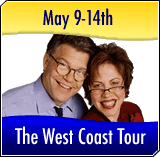 I love these two so much! I love The Al Franken Show so much ~ Thank Heavens for AirAmerica Radio. :-)
BTW, I just found out there is an archive of the shows at
Air America Place
and I've been pretty much catching the show there lately because I've been having trouble catching the show in real time and even via repeat play. So I was thrilled to realize I could listen to the show pretty much anytime I want to by going to Air America Place. And life is good again. YAY!
Posted by etherealfire ::
11:02 PM
::
0 Comments:


---------------oOo---------------