An etherealgirl's Adventures in Cyberland
Saturday, June 18, 2005
i went back to new mexico
and all I can show for it is a couple of photos that I took with my digital camera that really don't do any justice to the beauty I was trying to capture. But it's all I've got so it will have to be good enough: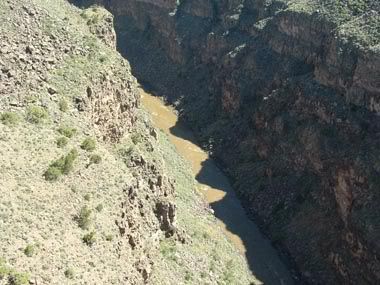 The Rio Grande Gorge captured from the Bridge (which would shake like crazy whenever a car drove across it, making me want to flee in terror)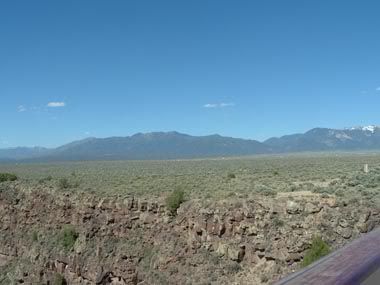 A view along Highway 68 that was totally spectacular as I experienced it, but lacking much in my attempt to capture that big beautiful vivid turquoise blue sky that so often haunts my dreams at night.
We didn't get to take the
Enchanted Circle
Scenic Drive
this time around; in fact, we hardly got to stay very long in
Taos
at all. But the precious time we spent later on that week, riding around the back roads in the area between Moriarity and Santa Fe and especially between Galisteo and Madrid and then back through the mountains to Albuquerque was an enchanting experience that kind of made up for the briefness of each trip. In fact I found myself so caught up in the beauty of it all that I forgot to even attempt to get pictures of most of it.
Even so I did end up with quite a few pictures, but even the ones I took just really don't capture the visual beauty of it all and it is very frustrating; I guess I just need to work at getting better at it. In the meantime, this will have to do; at least I've got alot of vivid visual memories to supplement the not-so-great pictures.
Posted by etherealfire ::
2:30 AM
::
0 Comments:


---------------oOo---------------