An etherealgirl's Adventures in Cyberland
Monday, March 21, 2005
conjuring up the goddess within
Found
this very cool site
via
this post at ebc
.
I also found this
very cool blog
thanks to
ebc
as well!
I came up as a
Persephone
archetype via
this quiz
and other quizzes in the past as well (looking but not finding a particular site to link to but, oh well), but I always find it amusing since I am on the verge of
cronedom
, in physical age, if not so much in appearance and probably not nearly so much in wisdom!
:-P
It's all fascinating stuff, this study of
archetypes
!
Now for a completely unscientific, oldie but goodie quiz, I got this result (rather than Persephone for a change):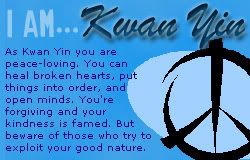 You are Kwan Yin, the goddess of compassion. Your
caring nature and healing touch make you
extremely popular as a counsellor, source of
happiness and great friend. But beware of those
who will try to take advantage of your kind
nature.
Reveal the Goddess in You
brought to you by
Quizilla
And finally, a fascinating piece found at
Archeology.org
about Asherah,
The Lost Goddess of Israel
.
Posted by etherealfire ::
11:34 PM
::
0 Comments:


---------------oOo---------------