An etherealgirl's Adventures in Cyberland
Sunday, June 19, 2005
happy father's day
Although this is late in the day, I hope it's not too late to wish all you wonderful dads out in cyberspace a Very Happy Father's Day!
happy father's day gif courtesy of
Teddy Bear's Gif Shop
.
I hope my hubby had a pretty nice one ~ he got the dvds he wanted and we finally went to see
Star Wars Episode III: The Revenge of the Sith
at his request; he intentionally wanted to wait till now and avoid the crush of humanity that packed the theaters a few weeks back. I think he enjoyed it very much and I'm really glad.
I know this is silly because I certainly knew what to expect well in advance; it is after all the story of the well known fall of Anakin Skywalker ~ but watching it still left me numb and ~ this is totally dumb and I know it ~ really depressed. I knew it would affect me that way because I'm such a lightweight and that's one of the reasons if I had my way, I would have avoided seeing it under normal circumstances. But it was Father's Day, so.... I'll get over it in a few days.
Meanwhile my stomach is churning and my bones are aching and coming home and watching Episode 4 didn't really help much. Oh well... this too shall pass. And in the scheme of things, it is a pretty silly thing to get sick over; but then again, maybe the fact that the real world isn't the most comforting place, especially these days and I won't even get into the hard~to~ignore comparisons between the movie and the scary direction we seem to be headed in lately, is contributing to this yucky feeling I've got.
We finally rented
The Aviator
the other day, too; and though it really was a good movie, I think I'm in desperate need of a comedy right now, especially if it is the light and fluffy romantic kind, my favourite mindless indulgence. I think
this
might be just the thing; link found via the wonderful
Twilight Cafe
.
For the moment, I've settled for the next best thing; a new wallpaper found at the
movie site
, currently adorning my desktop: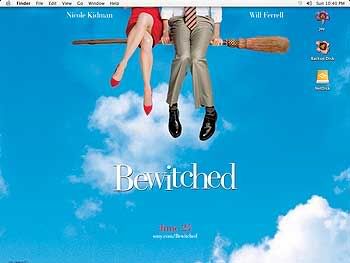 Posted by etherealfire ::
9:59 PM
::
2 Comments:


---------------oOo---------------