An etherealgirl's Adventures in Cyberland
Wednesday, August 24, 2005
afternoon naps
Poor MacKenzie had another vet appointment today (he's had a bunch of those lately unfortunately) and while his check up showed that he is doing much better, he came back pretty exhausted. So I guess I wasn't too surprised when I walked through the living room and saw that he and Gwennie were in the midst of an afternoon nap. The thing is that neither of them were sleeping on their designated beds in there.
Gwennie often prefers the coolness of the tiled floors in the summer so her choice of a naptime spot didn't surprise me all that much. But I was amazed to find that MacKenzie was napping in the very elegant princess cat bed (which we bought for Groucho before we knew he was a boy - LOL!) instead of his own comfy bed which has more room for stretching out.
They both looked so cute I couldn't resist taking a few pics of them... but of course, they are blurry (as usual) and didn't do their cuteness justice at all. :-(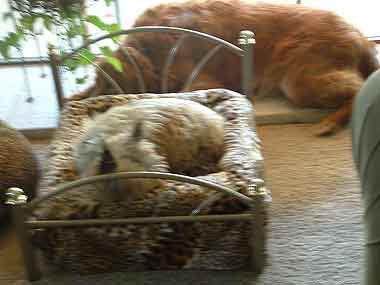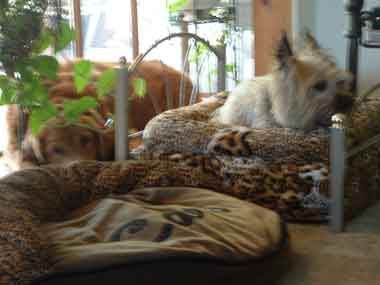 While I was taking those pictures I wondered where Groucho was anyway; but then, that was a silly thing to wonder. He spends most of his naptimes in his favourite bed of all: Suzanne's queen-size bed. Sure enough he had just awakened from his own nap and was in the middle of a bath: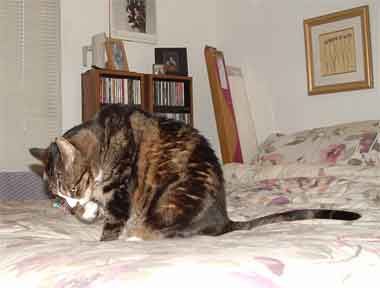 And then I was asked to please cease and desist from behaving like some sort of deranged paparazzo trying to catch him in an uncompromising position:
And so I did. But he's got me wondering... is there really such a word as "paparazzo"? His answer: talk to the paw...
Posted by etherealfire ::
2:47 PM
::
3 Comments:


---------------oOo---------------