An etherealgirl's Adventures in Cyberland
Saturday, August 20, 2005
better late than never
We indulged in the rare treat of
going to the movies
today! The movie we chose,
The 40 Year~Old Virgin
, was the perfect remedy for lifting the collective sagging spirits we've been wallowing in around here lately.
I thought it was a surprisingly sweet movie, underneath alot of the more crude posturing that you can expect (which was also really very funny) when you are supposedly listening in on the male perspective of females and the relationship thing.
Hubby loved it, I loved it, EVERYBODY really loved it! Life is good... and so was this 1 part sweet, 1 part dorky and 1 part raunchy quest for... love, baby!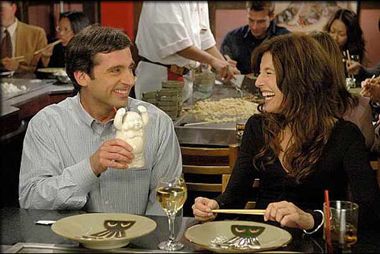 Can Andy (Steve Carell) and Trish (Catherine Keener) make a love connection?
Image courtesy of
Cinema.com Photo Gallery
.
Posted by etherealfire ::
11:11 PM
::
0 Comments:


---------------oOo---------------