An etherealgirl's Adventures in Cyberland
Thursday, August 18, 2005
eye candy galore
Shelley at
Burningbird
has captured some beautiful
images of monarchs and swallowtail
, Kameron at
Brutal Women
has some
enchanting photos of Alaska
, Karen at
Bread Crumbs
has images of
the desolate beauty of Niger to share
, Monica at
Blatherskite
caught a lovely blue dragonfly
with her trusty camera as well and check out
the link to the lovely holiday photos
at
But She's a Girl
!
And what've I got? Just a pair of images that neither compare to the beauty of any of these other photos nor the beauty of my subjects: my gorgeous goldfish, becca and edgar (winter). Still, the glorious images provided by these lovely and talented ladies inspired me to at least try to capture something beautiful with my camera! I'm so in love with this camera and the world around me, I refuse to give up trying to get proficient at using it.
Anyway, here's my beautiful goldfish, Becca and Edgar; too bad the photos really don't do them justice: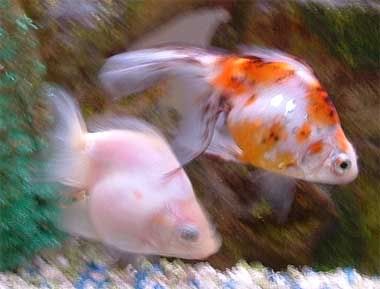 my attempt (too blurry ~ and I took a bunch just like that unfortunately)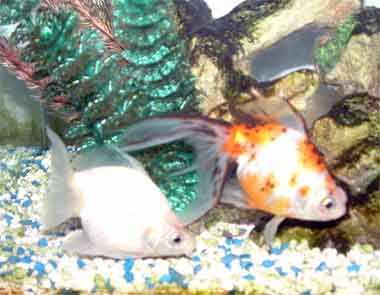 one of Suzanne's attempt with the flash (reduced the blurriness but too washed out)
We also experimented with turning all excess lighting off and that did work to get perfect tone and no blur... but because nobody could see anything we never were able to get the two fish close together and inside the camera view finder. LOL! Oh well; I'm just gonna keep on working on it.
Posted by etherealfire ::
9:25 PM
::
0 Comments:


---------------oOo---------------