An etherealgirl's Adventures in Cyberland
Tuesday, October 18, 2005
the crossroads: rhythm, blues, rock and soul
The music that
saved
my soul was nurtured into beautiful expression at the crossroads, an intersection of Highways 49 and 6l in Clarksdale, Mississippi.
A little bit fact, a little bit rumour and as big and legendary as any great larger than life popular culture archetype, the stories about the Crossroads and the great blues legends that populated it at one time or another is a constant fascination for most hardcore music fanatics.
Love the blues? It all began in joints like these
.
The official crossroads, at U.S. 61 and U.S. 49, is now graced by an oversized blue electric guitar mounted on a 25-foot pole. By itself, it is a Mid-South photo-op. An iPod-tunity, too: Try Cream's classic version of Crossroads. Or Walking into Clarksdale by Zeppelin's Robert Plant and Jimmy Page. The title of the Romantics' [of What I Like about You fame] 2003 LP was even more site-specific: 61/49.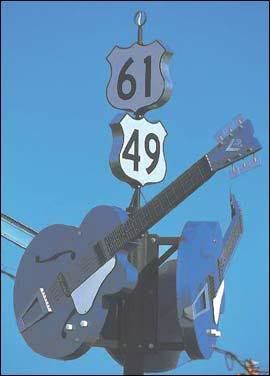 COURTESY OF CLARKSDALE-COAHOMA
CHAMBER OF COMMERCE

MUSICAL CROSSROADS:

Legend has it that the intersection of U.S. 61 and U.S. 49 is where bluesman Robert Johnson sold his soul to the devil in order to become King of the Delta Blues.
Image and great story via
The Miami Herald.com
.
Posted by etherealfire ::
9:40 PM
::
0 Comments:


---------------oOo---------------