An etherealgirl's Adventures in Cyberland
Friday, October 07, 2005
a generous gift of space: desert longings
"The phoenix hope, can wing her way through the desert skies, and still defying fortune's spite; revive from ashes and rise."

~~~ Miguel de Cervantes Saavedra, Don Quixote

~~~~~~~~~~~~~~~~~~~~~~~~~~~~~~~~~~~~~~

"Strolling on, it seems to me that the strangeness and wonder of existence are emphasized here, in the desert, by the comparative sparsity of the flora and fauna: life not crowded upon life as in other places but scattered abroad in spareness and simplicity, with a generous gift of space for each herb and bush and tree, each stem of grass, so that the living organism stands out bold and brave and vivid against the lifeless sand and barren rock. The extreme clarity of the desert light is equaled by the extreme individuation of desert life-forms. Love flowers best in openness and freedom"

~~~ Edward Abbey, Desert Solitaire
Only a couple of hours from my Southern California home, I've driven within visiting distance to Joshua Tree National Park plenty of times, and every single time we drive right on by, and remind ourselves how we should someday stop and look around.
My secret desire has been to convince hubby to head out that way some Friday or Saturday afternoon and spend an evening out there with our telescope and indulge in some serious stargazing.
But... that is the kind of "off the wall", spur of the moment kind of idea that I generally love... and most everyone else in my uber-practical family generally disdains.
:-(
It's kinda sad when you are surrounded by pragmatic types who evidently don't suffer from the same type of agonizing episodes of acute wanderlust, but... oh well...
In any case, I did a little internet travelling and I think the best time to go would be in April (or maybe even May if we want to take in the music festival) anyway.
Until that day comes, I make do with armchair virtual travelling as usual; here's the linkage to the internet journey I took:
Joshua Tree National Park Association
NPCA CyberSafari Joshua Tree National Park
National Park Service ~ Joshua Tree National Park
Joshua Tree Desert USA
Joshua Tree Virtual Tour
Joshua Tree National Park Links
Joshua Tree Music Festival
And here's an image of Joshua Tree that I wish I had snapped but didn't: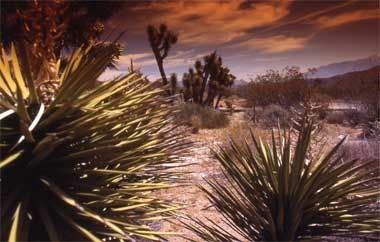 lovely image of Joshua Tree courtesy of
dafalias' gallery
at
stock.xchng
Posted by etherealfire ::
5:39 PM
::
2 Comments:


---------------oOo---------------