An etherealgirl's Adventures in Cyberland
Friday, October 07, 2005
the almost daily gratuitous jp newswatch
A happy, happy bit of news for JP fans everywhere, found by reading this report:
Classic Rock Winners
The great and the good of the rock world trod the red carpet at London's Cafe De Paris, including Jimmy Page, Phil Manzanera from Roxy Music, members of Yes and Uriah Heep. Jimmy Page wasn't accepting or presenting an award, but he took time to tell 6 Music a tiny bit about his new solo album.

He said: "I've been working on three projects at once since May and I'm just taking a break now and about the end of this month I'm gonna start back in on it. Hopefully it'll surface early next year and, well, it's gonna be good. Main thing is it's new music."
Ross Halfin
has some choice images of the event including a pair of images of JP with Lemmy Kilmister of Motorhead fame in his October 5th entry.
I got inspired to change my desktop as well by putting together this: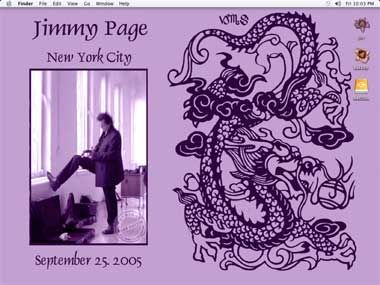 credit to the very awesome and extremely generous
deviant artists brush collections
(the dragon brush is from songficcer's oriental brushes) and the lovely JP image (that I only slightly tinted lavender coz I luv lavender) is a photo taken by the fabulously talented (please don't sue me it's strictly for my own personal desktop use and you totally RAWK!)
Ross Halfin
.
Posted by etherealfire ::
10:11 PM
::
0 Comments:


---------------oOo---------------